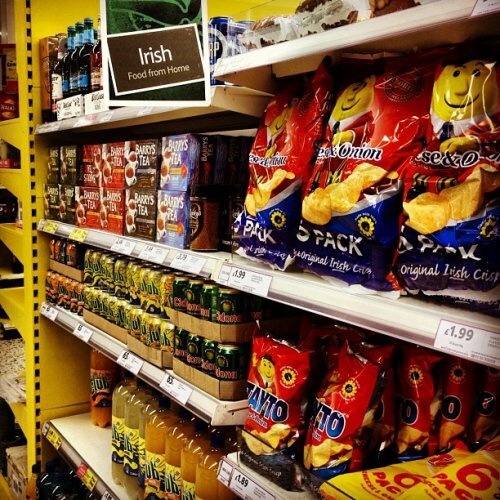 Updated, 13:32
IT'S JUST a stone's throw from the Olympic Park – and despite the international flavour of the nearby sporting events over the past few weeks, it's a little corner of Ireland.
This is a corner of the Tesco in Bromley-by-Bow in East London, as featured in a pic sent into us by Mark Hughes, who says it was a "total surprise" to come across the shelves stacked with Irish produce as he was doing his weekly shop.
The Irish corner – complete with a sign reminding Hibernian ex-pats that it's 'food from home' – stocks products that are familiar to anyone who grew up on Ireland's shores, but which might be a little more foreign to the London natives.
Aside from the Cidona and Club Orange you can see in the pic, there's Barry's Tea, Bewley's coffee, Bachelor's Beans, Paddy whiskey, Power's Gold Label, West Coast Cooler (which we only today learned is Irish), Harp Lager and Jacob's biscuits.
To cater to people from both sides of the border, the store even stocks both the Republic and Northern versions of Tayto Crisps.
It "makes me homesick," Mark told us last night.
Update: Here's a rival stash from another London Tesco, this time in Clapham, via Mark O'Flaherty who says seeing jars of Ballymaloe relish "brought a tear to my eye".
See also: Chef brown sauce, brown bread, Erin soups and Chickatees: