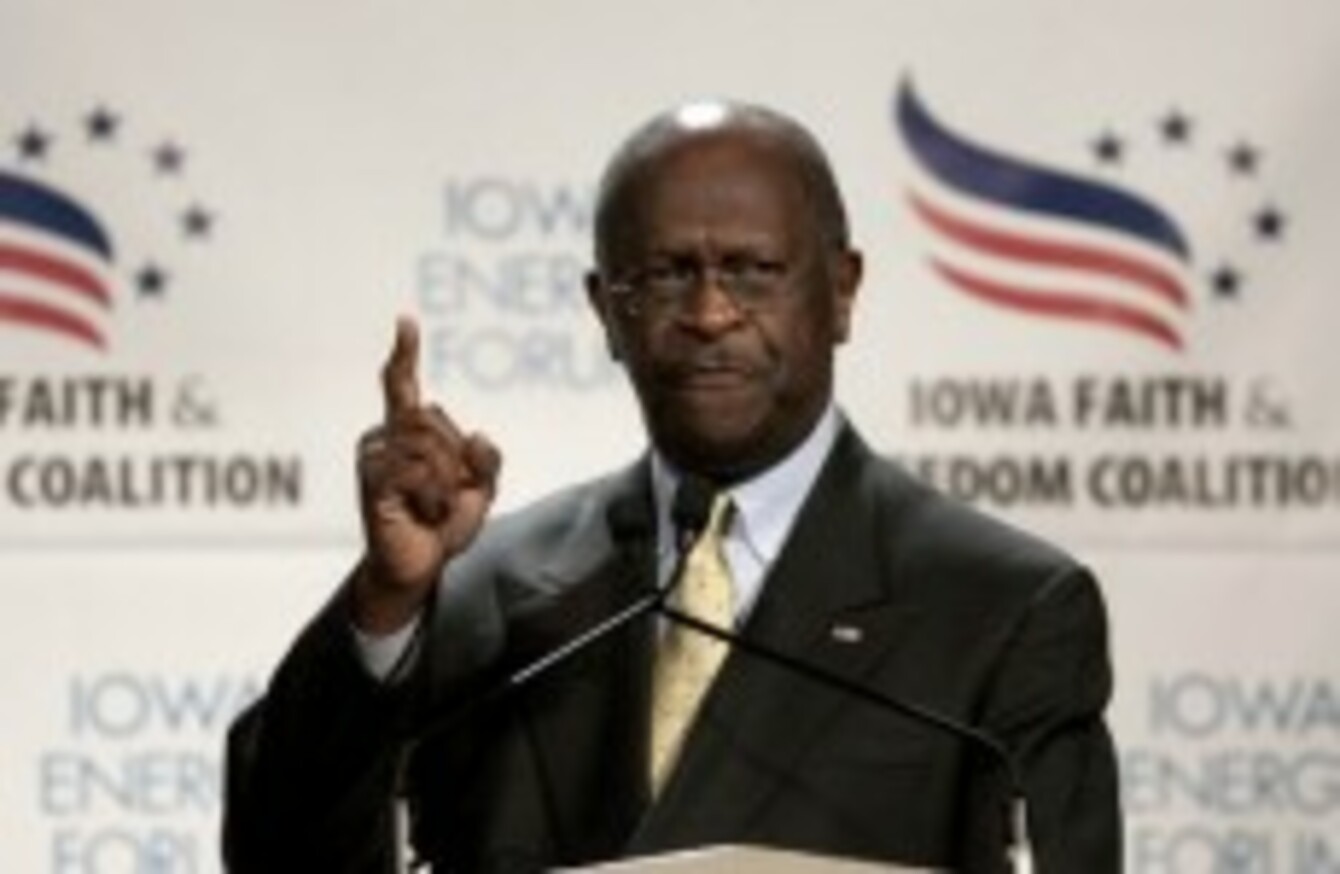 Is this the next President of the United States?
Image: Nati Harnik/AP/Press Association Images
Is this the next President of the United States?
Image: Nati Harnik/AP/Press Association Images
ON MONDAY, WE brought you Rihanna and her smoking escapades.
Today is the turn of another American to wind us up with his cigarette yielding. No, it's not another pop star, rapper or Hollywood's youngest child actor.
It is actually a politician…more specifically it is Mark Block, the chief of staff of Herman Cain, candidate for the Republican presidential nomination.
In the bizarre new ad for his campaign, Cain has his aide tell the nation that he will put the United back in the United States. The usual heartfelt messages from big-name supporters, images of the candidate talking to "real" people or uplifting scenes from stars-and-stripes rallies are not present.
But then again Block tells us that America's never seen a candidate like Herman Cain.
However, the 56-second ad takes a turn for the weird once a tea party anthem begins to play. While a lady sings, "I am America. One voice, united we stand," in the background, Block takes a long drag from a cigarette.
If that's not odd enough, the cameraman then switches to an up-close-and-personal shot of the candidate himself. As the particularly cheesy anthem continues in the background, Cain offers us a matching grin…in slow-mo.
Some call it brilliant – an instant viral hit that will get people and the media talking about the GOP campaign (And they were right, of course, we hold our hands up).
Others thought it must be fake – a parody – because surely he could not be that out there, could he?
Whichever side of the fence you land, it cannot be argued that the video is not effective. And, at the end of the day, isn't that all the campaigners want?
Our theory at TheJournal.ie is that Cain's people – while reaching everyone with their video – are focusing on all those "ordinary" American folks who take a puff and wear a mustache (or take a puff and like their men mustached).
Who knows, maybe the men and women behind the campaign didn't think too hard about it. Maybe they just thought it looked cool?
What do you think, what's the idea behind this video?

As strange as we thought the official campaign ad, this endorsement from Hollywood actor Nick Searcy back in September is even more bizarre. Take a look:

After those vital four minutes of entertainment, in case you're wondering how serious a candidate Mr Cain actually is. He currently stands with 25 per cent support from the GOP.