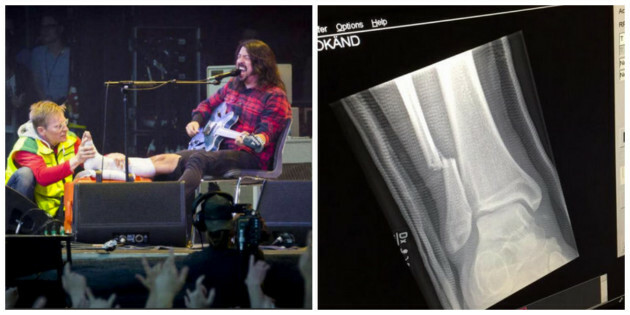 ON FRIDAY NIGHT, Foo Fighters frontman Dave Grohl took saying "Break a leg!" a little too literally and actually broke his leg.
However, the rock star didn't let a broken limb stop him rocking out and he soldiered on.
Unfortunately, Grohl's injury means that the band has had to cancel the remainder of their UK tour, including their scheduled headline performance at Glastonbury.
In a letter written to fans, Grohl apologised for the cancellations and pledged to be back on stage soon.
You know I hate to do it, but I'm afraid it's just not physically possible for me at the moment. We're doing our best right now to work out a plan, so bear with us. You know we're good for our word. But for now, I need to make sure we have YEARS of gigs ahead of us….
He also had this little message for his fellow Glastonbury headliner Kanye West.
PS…….Kanye…..Imma let you have this one…..
Fans were pretty gutted.
And some started to panic about who would replace Grohl and co.
But then, a knight in shining armour came galloping in on his steed and offered to save the day.
Enter James Blunt, purveyor of sappy ballads and surprisingly witty tweets.
Nevre one to miss a golden opportunity for trolling, Blunt decided to make a very special announcement this morning…
Solid trolling, Blunt.
Sorry, Foo fans.