Warning: This article contains graphic imagery and descriptions of sexual violence.
LAST NIGHT'S LOVE/HATE season five finale included a graphic scene of prison rape.
In it, Fran was assaulted in the Mountjoy showers, held down, and anally raped with the broken end of a pool cue.
He was left lying naked in a pool of his own blood.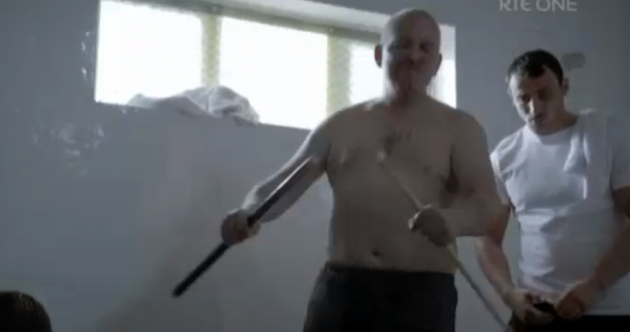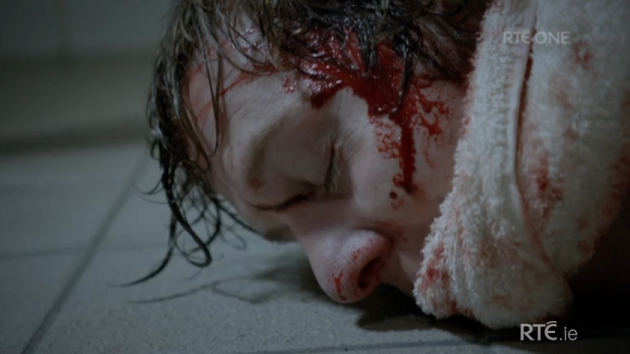 A lot of people took to social media to joke about it.
There was a strong response to the scene. Many viewers were shocked.
However, there were also a lot of jokes about it, some of which were widely shared on social media.
Several prominent media outlets also posted their own jokes and memes about the rape.
They included RTÉ 2FM, who posted a "cue-la boola" image with the caption "Brilliant!". It has since been deleted after several complaints.
FM104: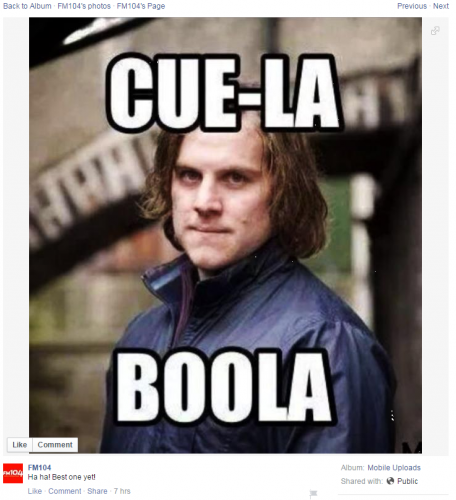 FM104 FM104
This Facebook status with the caption "Ha ha! Best one yet!" received thousands of likes. It has since been deleted.
Her.ie:
So are these just a bit of fun?
We asked the Rape Crisis Network for their view on the effect of jokes like this. Their response was pretty definite.
Spokesperson Cliona Saidlear told DailyEdge.ie:
No matter what the context or circumstances, to make light of sex assault and rape is to feed into a culture of sexual assault denial which silences victims and helps perpetrators get away with it.
She suggested that it made no difference whether Fran was a convicted violent criminal or not. "We're in trouble once we start talking about those who are deserving and those who are not," Saidlear said.
Would it be different if the victim had been female?
Maybe. Some of the discussion on Twitter last night centred around the very different response evoked by Fran's rape last night, and the rape of Siobhán in the opening episode of season three.
In fact, joking about male rape can make it even more difficult for victims to come forward, Saidlear said.
Adult male sex assault is the smallest category, the least likely, but it does happen. And when it does it can be very difficult for men to come forward because society denies and minimises it. And that has a silencing effect.
What about the fact that Fran is a violent gangster in prison, and this was a revenge attack? Does that make it OK?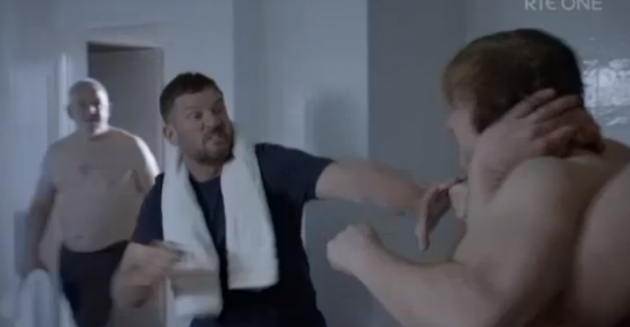 It's definitely part of what makes these rape 'jokes' more widely accepted. Traditionally, it has been far more socially acceptable to joke about prison rape (of men) than about any other category of sexual assault.
Linda McFarlane, deputy executive director of Just Detention International, has said:
Humour is part of the cultural attitude, that (prison) is the one place where rape is okay.
She added: "Jokes target the pain of a particular group of people and dehumanise them. … [This] layers the discourse with a veil of acceptance."
Saidlear told DailyEdge.ie that the fact that rape happens in prison doesn't make it any more palatable. "Rape is rape no matter who the victim or what the circumstance," she said. "Prison is the sentence – violence is not."
Were these posts made in the heat of the moment? Has anyone apologised?
Of the users and outlets featured above, not obviously. There have been a few deletions though – 2FM and FM104 quietly removed their posts.
Irish Independent cartoonist Niall O'Loughlin posted a graphic caricature of the rape on his Twitter page, which he has since deleted saying he "never intentionally set out to cause offence".
However, most of the tweets and Facebook posts are still in circulation.
Is it OK to make rape jokes then?
Here's Caoilfhionn Dunne, the actor who played Lizzie:
Update: Colm Tobin has since apologised for his joke.
If you have been affected by rape or sexual assault, these services offer support:
The Dublin Rape Crisis Centre: national 24-hour helpline on 

1800 77 88 88


The Samaritans on

116 123

Amen, for male victims of domestic abuse, on

046 902 3718

Women's Aid national helpline on

1800 341 900