SkyMediaHub SkyMediaHub
AGNES BROWN IS one popular woman. She's big in Ireland, big in Australia, big in Canada, and soon to be on the big screen.
You probably already know the story – Irish comedian Brendan O'Carroll created the curlers-and-cardigan wearing Agnes Brown back in the early 1990s, bringing her to the stage, radio, books, and films.
She was even played by Anjelica Houston in a 1999 rom-com based on O'Carroll's book The Mammy.
On the TV show Mrs Brown's Boys, Agnes Brown is a forceful Irish matriarch, full of crude wise-cracks and naughty winks. She doesn't self-censor, she's salty and a salt-of-the-earth Dubliner, and she doesn't give a hoot if you don't like her.
She doesn't just appeal to those with Irish mammies – the sitcom was the most-watched show on BBC last Christmas Day. Clearly, the lady has international appeal.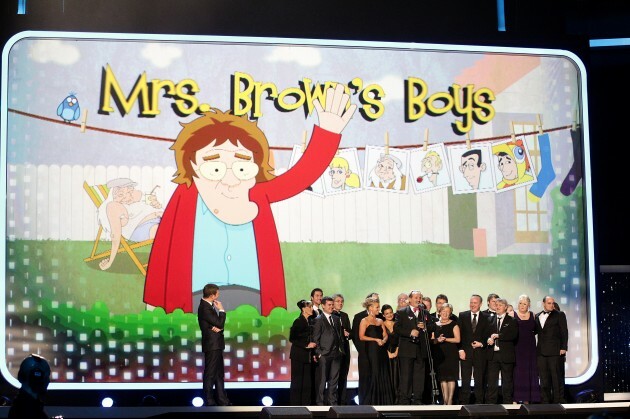 PA Archive / Press Association Images PA Archive / Press Association Images / Press Association Images
Another side to Agnes
Those who only know Mrs Brown's Boys from its current small-screen incarnation might be surprised to hear that there's more depth to Brown than they realise.
O'Carroll's own family history intersects with Brown's story, and a new exhibition at the Little Museum of Dublin looks not only at the comedian's heritage, but how he created his character Agnes Brown.
"Our goal was to engage people who have never even heard of Mrs Brown," said the curator of the exhibition, Kimberley Foy.
That's why there's so much focus on Brendan's parents, whose stories reveal much about Dublin in the middle of the last century. We wanted to make a chapter of social history as well as a backstage tour.
O'Carroll left school in Dublin at the age of 12 and worked as a waiter, disco manager, milkman, pirate radio DJ and decorator before finding fame.
What's striking is that the roots for his creation of Mrs Brown are in Ireland's social and political history: the War of Independence, the traders of Moore Street, and growing up in a house full of women.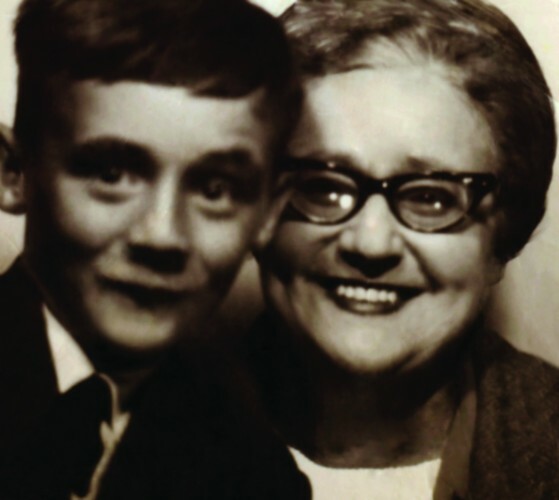 Brendan O'Carroll and his mum, Maureen
Standing up for the working class
As curator, once Foy started digging and doing a little research into O'Carroll's background, she discovered that he "had a fantastically interesting family story".
His mother Maureen was a former nun who went on to become a Labour TD and then the equivalent to the consumer watchdog of her day.
"It's interesting how his own mother would have railed against prescribed roles in her time – she did not agree that the place of women was the home," said Foy. "She found a role for herself in the public eye fighting for social justice."
"She stood up for the working class people."
She was involved in a particular case where she barged into the premises of Bachelor's peas with members of an Garda Siochána with a warrant, because she suspected some of the peas were substandard. She wasn't afraid of anyone.
The exhibition also looks at O'Carroll's father Gerard's family, and his grandfather's involvement in the War of Independence.
'Moore St gave birth to Mrs Brown'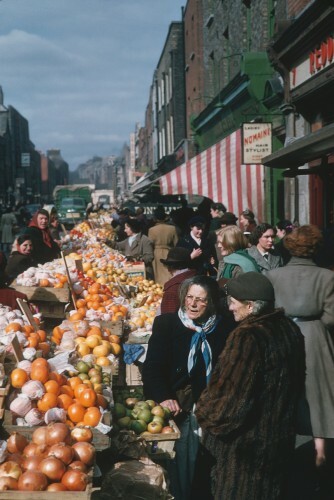 Hulton Archive Hulton Archive
"She didn't come out of nowhere," said Foy of Agnes Brown. "She's inspired by these very hardworking women who traded on the streets, Moore St in particular."
Brown is as much a product of working-class Dublin as she is O'Carroll's imagination, but as a character she's like looking in a funhouse mirror: you can see where things are normal, but parts are distended or rendered unrecognisable.
And it's this over-the-top characterisation, the sexual innuendo, the filthy jokes and nudges and winks that appeal to a broad audience.
Viewers might not want to be her, they might not have a mammy exactly like her, but  appreciate her uncensored opinions and ability to knee-slap her way out of a situation.
This is also what those who don't like Mrs Brown's Boys roll their eyes at – the puerile humour, the lowest common denominator situations, the staged silliness of it all.
But there's a lot of depth to that character "that maybe people don't appreciate" said Foy. By examining Mrs Brown's story, we also delve into Dublin's history and cultural heritage.
Dublin is this sort of unassuming major character in Mrs Brown's Boys – Dublin gave birth to Mrs Brown's Boys, Moore St gave birth to Mrs Brown. There's so much there than people give her credit for or give [O'Carroll] credit for.
Agnes is tough, but she's also a loving mother.
"Even though she's a Dublin mammy, and an Irish mammy, and fits into a very particular idea we have in Dublin about what mammies are, she's a universal mammy," said Foy.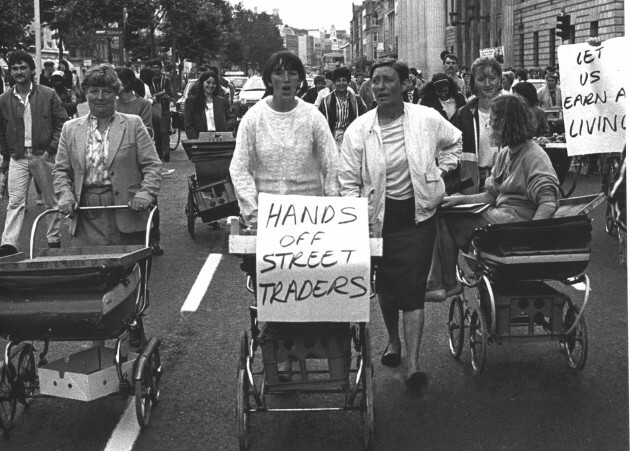 Why is Mrs Brown's Boys so popular?
Writer and producer Colm Tobin hasn't watched a lot of Mrs Brown's Boys, but has seen his opinion of the sitcom change over the years.
"I used to really despise it when it came on air first – it just felt like an embarrassing throw back to the 70′s. I just didn't get it," he told TheJournal.ie. "I couldn't for the life of me figure out why it was so popular in the UK."
It was when he saw the positive experiences other people had of the show that he began to change his mind.
I guess it was when I was at home at Christmas around older members of the family that I realised how much joy it brought to a lot of people and that it has pretty broad family appeal.
"I guess the ratings don't lie – people aren't being forced to watch it at gunpoint (as far as I know)," he added.
Where does Mrs Brown's Boys fit into the comedy world? "My feeling on it is that there's room for lots of different types of comedy in TV, from the obscure critically acclaimed stuff that sweeps the boards at The Comedy Awards to the really broad hit-them-over-the-head-with-a-hammer stuff like Mrs Brown's," observed Tobin.
He thinks that for a long time broadcasters forgot to cater for the latter "and commissioned stuff like The Office that, though clearly brilliant, isn't something you might want to sit down and watch after a day working in, say, a call centre".
While he would personally prefer to see more shows like Limmy's Show or Hunderby being made, he thinks national broadcasters "still have a duty to entertain the masses, as it were, and I don't think these two things are mutually exclusive".
So fair play to Brendan O' Carroll. How many squillion Brits tune in at Christmas?
What our readers think about Mrs Brown's Boys
We asked on Twitter what our readers think of the show – here's what they said:

Richard Drumm Richard Drumm
Eleanor Eleanor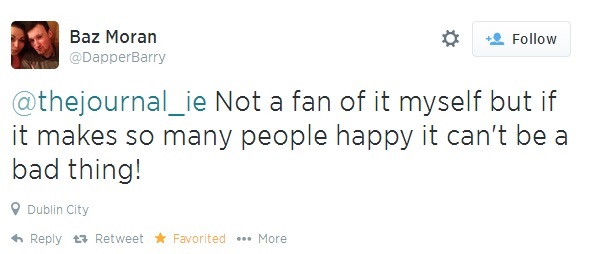 Baz Moran Baz Moran

James Keating James Keating
Tom Doorley Tom Doorley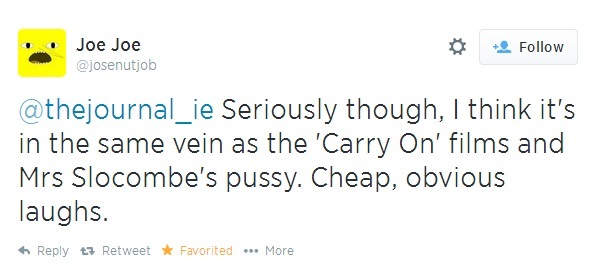 Joe Joe Joe Joe

Roisin Burke Roisin Burke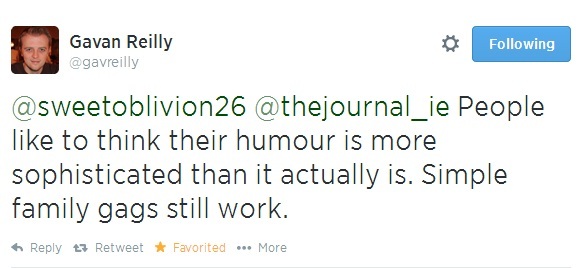 Gav Reilly Gav Reilly
Produced with assistance from Brendan O'Carroll and Universal Pictures International Ireland, Mrs Brown D'Exhibition runs until July 20th. Mrs Brown's Boys D'Movie opens on June 27th.