A YOUNG MAN is claiming to have gotten an Odlums logo tattooed on his arse while on holidays and is now demanding freebies.
Sam from Co. Kilkenny posted this photo to the Odlums Facebook page: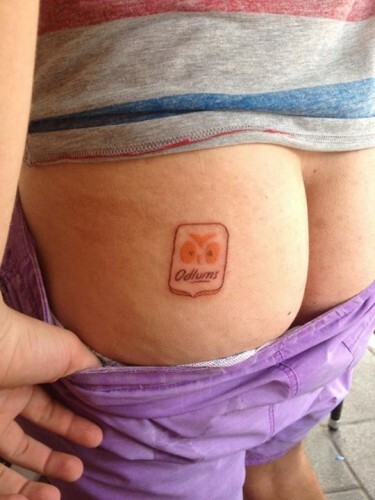 Odlums / Facebook Odlums / Facebook / Facebook
His comment reads:
Well Odlums, my mother and grandmother are both keen bakers and bake frequently using your flour. So while I was on my travels on my leaving cert holiday I got this tattood to my bum so is there any chance of any freebies since I have your logo on my bum for the rest of my life, Thanks.
The comment has received 1,697 likes since last Thursday, but the flour manufacturer have yet to respond to Sam.
Elaborating on the initial comment, he wrote:
Haha I just want free flour
This is either the greatest tattoo of all-time or a brilliant troll. Either way: bravo, Sam.