IN THIS HOT weather, Ireland has lost the run of itself.
People are drinking coffees outdoors. People are exposing delicate areas of skin. And people are buying paddling pools like there's no tomorrow.
But they are NOWHERE TO BE FOUND.
Overheated parents have been growing desperate:

Hell, people are even taking to the comments section of DailyEdge.ie in a desperate bid to secure an inflatable pool of cool, cool water.

It's not even just the kids any more.

So we set out to investigate: are there ANY paddling pools remaining in Ireland?
A call to Smyths Toys was met only with a resigned chuckle – the chuckle of an assistant who's been asked whether she has any paddling pools over and over and over again:
Nope. None of our stores have any left as far as I know. There are none in the warehouse.
The Argos website has many paddling pools – but we couldn't find a single one in stock at any of the Irish stores we checked.
And Woodies on the Naas Road in Dublin revealed that they haven't had any in at all this year, advising us to try Argos.
Finally, acting on an insider tip, we tried B&Q in Liffey Valley.
Finally… Yes! They have paddling pools. But only one kind is left on the shelf (the 10ft ones, in case you're interested) and we were told that they weren't suitable for a mixed-age group of children.
Have they had a bit of a run on paddling pools?
You'd better believe it.
So no: at present, Ireland hasn't quite run out of paddling pools. But if you want one, you'd better move fast.
Do you know anywhere else paddling pools are available? Let us know in the comments. (Because our feet are REALLY hot.)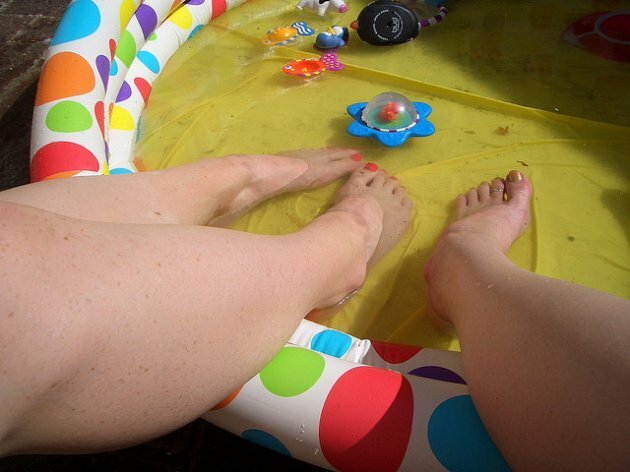 Imagine how good this feels. Just imagine. (Flickr/imcountingufoz)
Update: According to their Facebook, Paint Pot Hardware in Templeogue now have paddling pools back in stock. To Templeogue! (Thanks commenter Karen Mooney.)