ARE YOU WATCHING Parks and Recreation yet?
No? Then read on to find out why.
Yes? Then read on to remember just how damn good it is.
The reasons, in reverse order…
7. Lesley Knope
The show's lead character and ball-of-fire driving force behind Pawnee's Parks and Recreation department, played inimitably by Amy Poehler. Lesley is a woman of principle:
Plus, the entire show is based around her her workaholic fumblings and on-off love story with adorkable senior manager Ben Wyatt.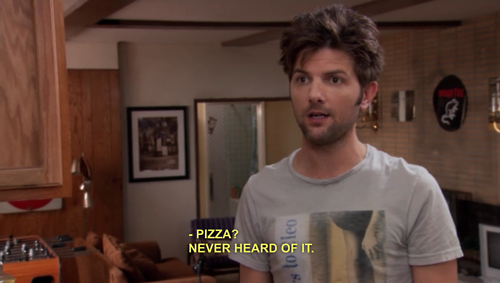 But she's not afraid to enjoy herself. The only way she knows how.
6. Pawnee Today
The daily chat show where the town of Pawnee ("First in Friendship, Fourth in Obesity") comes to air its troubles. Hosted by the indefatigable Joan Calamezzo…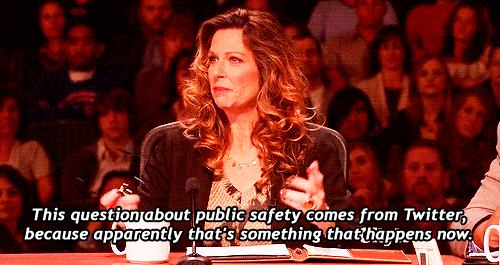 And featuring a byline writer unafraid to display their own personal take on the show's events.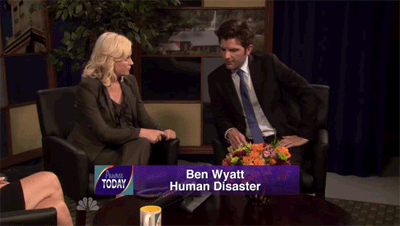 5. Business propositions, brought to you by Tom and Jean-Ralphio
Lesley's right-hand man in the Parks Department, Tom Haverford is too smooth for government work. He's just a little civil servant with a big dream:
Starting now, when life gives me lemons, I'm going to slice them up into wedges and throw them into vodka tonics, which I will then sip in a burlesque night club that I co-own with actor Taye Diggs and two of the Pussycat Dolls.
Luckily he has his friend and sidekick Jean-Ralphio, Pawnee's premier lady-schmoozer…
To dream big with. Some of Tom's premier investment ideas, to start: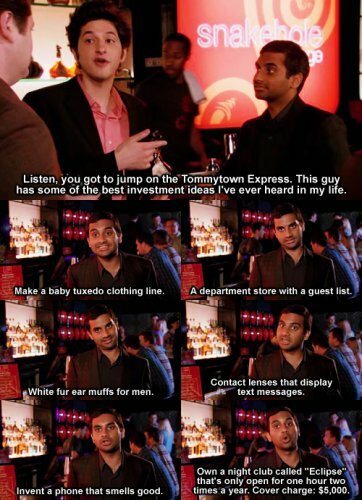 Foolproof.
4. The internal rivalries at the Pawnee City Hall
The Parks Department hates the Libraries Department. They call them: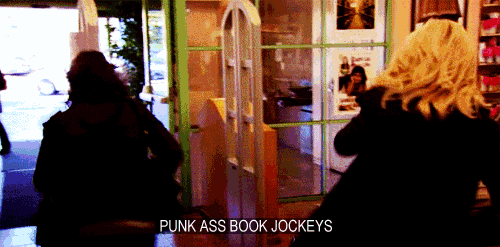 Because the Libraries Department are cruel, cruel individuals.
Then there's the city government's in-house studs in the Sewage Department. Or as they call it, the Toilet Party.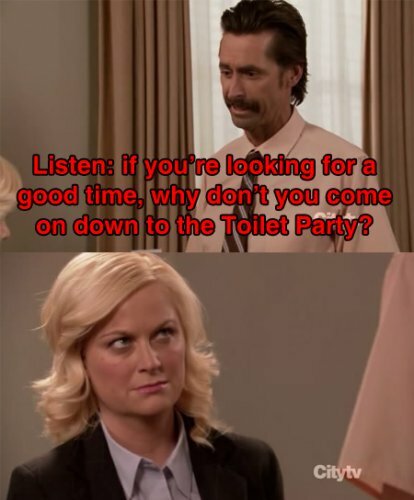 3. Lil' Sebastian
A little horse. Universally loved and revered by all of Pawnee.
whitecliffpublishing.wordpress.com
Endowed with an unusually large manhood for a little horse, and the impetus behind some of the show's best storylines.
Even perpetual grouch Ron Swanson falls under Sebastian's spell – for example after the horse's tragic death, when the town flag is flown at half mast.
(PS. Lil Sebastian is also the inspiration behind the show's best merchandise.)
2. April Ludgate
Intern at the Parks Department. Perennial grouch. Inspiration to moody young people everywhere.
Let's be honest: we've all felt like this about the outdoors.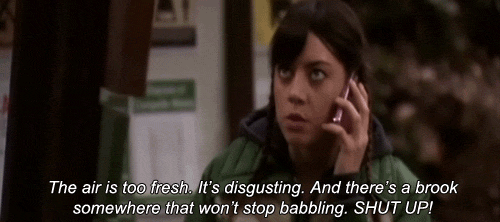 1. Ron Swanson
Ah, Ron Swanson. Woodworker, steak-lover, all-round man's man and anti-government libertarian in charge of a goverment department.
Fond of giving Claymore landmines to nine-year-old girls "to protect their personal property".
All-round grouch.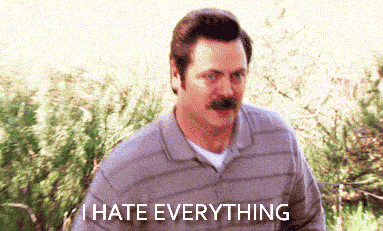 And yet, unafraid to have a good time when the occasion demands it.
All hail Ron Swanson!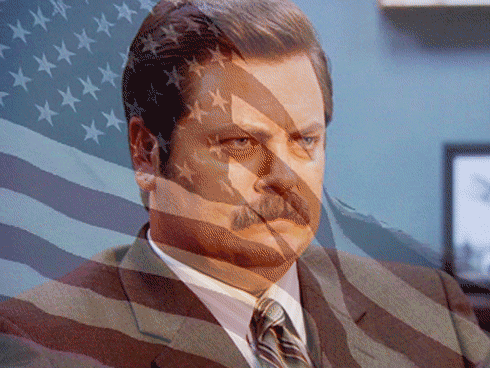 Now, go and watch Parks and Recreation immediately.
Those of you who've already seen it: high five! What's your favourite bit?