YOU MIGHT REMEMBER the buzz at the start of last year when Pierce Brosnan was spotted looking *ridiculously* like Gerry Adams on the set of a film.
Look at him:
Details began emerging that Brosnan was playing Liam Hennessy, a former IRA member turned Northern Irish government official, alongside Jackie Chan in an action film called The Foreigner - based on a 1992 novel called The Chinaman by Stephen Leather.
Even Gerry could see the resemblance
Even though the likeness is completely coincidental, of course.
According to IMDb, the basic plot of The Foreigner tells the story of:
a humble London businessman Quan (Chan), whose long-buried past erupts in a revenge-fueled vendetta when the only person left for him to love – his teenage daughter – is taken from him in a senseless act of politically-motivated terrorism. In his relentless search for the identity of the terrorists, Quan is forced into a cat- and-mouse conflict with a British government official (Brosnan), whose own past may hold clues to the identities of the elusive killers.
This year, we got to see Hennessy in action for the first time when the trailer dropped
Movieclips Trailers / YouTube
Another trailer was released in September ahead of its US release in October
Movieclips Trailers / YouTube
It premiered in China and has been released in Australia, Denmark, Portugal, Canada, Estonia, Netherlands, Sweden, Malaysia, Indonesia, Hong Kong and a rake of other countries in the past month.
But there was no word on an Irish or UK release date.
That was until yesterday when Netflix announced that they were debuting it as part of their December additions
Netflix Netflix
It lands on December 15, to be specific.
But what can we expect? Given it's been released in the US, all the major reviewers have had their say. The New York Times weren't convinced that Chan can pull off such action-heavy roles at his age:
Mr. Chan is in his early 60s, and he doesn't deliver the action pizazz here that he used to. Nor, frankly, does he summon enough gravitas to be persuasive in the role of a grief-maddened father. For what it's worth, Mr. Brosnan, as Quon's nemesis, sells the angry-all-the-time requirement for his character.
While Forbes called it "a fine action thriller":
Brosnan delivers what he's been giving us for the last 15 years (Tailor of Panama, November Man, No Escape, etc.), namely a grizzled, cynical, somewhat real-world version of a would-be government agent possibly gone to rot. Brosnan has essentially been playing a real-world 007 ever since he left the actual James Bond franchise. But it's a strong an engaging performance, as the picture empathizes with his attempts to prevent further bloodshed. He has a great speech where he begs everyone to maintain the peace, and the film treats Chan as a genuine fly in the ointment. The action hero isn't quite a full-on villain, but nor does it present him as entirely righteous.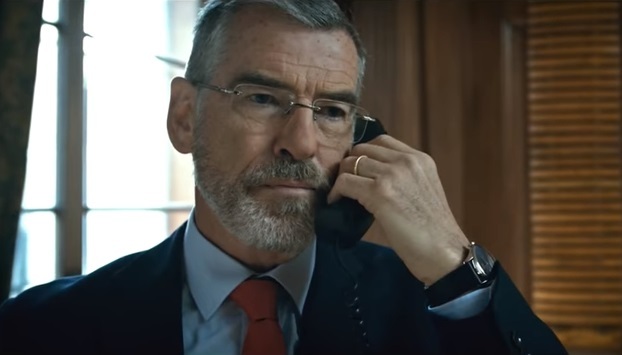 Netflix Netflix
Interestingly, the review on RogerEbert.com calls into question the one thing you wouldn't expect: Brosnan's Northern Irish accent:
Hennessy, an antihero defined by Brosnan's atrocious Irish accent and a forehead peppered with liver spots that seem to proliferate with every extreme closeup, spends a lot of time on the phone, and drinking Scotch. He also does what every other Bourne-style government wonk does: repeatedly curse out his men about how they're always a few steps behind the Authentic IRA, and Quan, the latter of whom has declared a personal war on Hennessy since the Irishman has previously worked with the IRA.
Ultimately the site wasn't impressed – giving it just one star out of four:
watching "The Foreigner" is a thoroughly dispiriting experience. You wait for characters to take a break from gabbing about Hennessy's connections with everyone from old IRA members to, uh, newer IRA members. But when Chan finally does swing into action, it's in scenes that over-emphasize his character's age, and lack of coordination.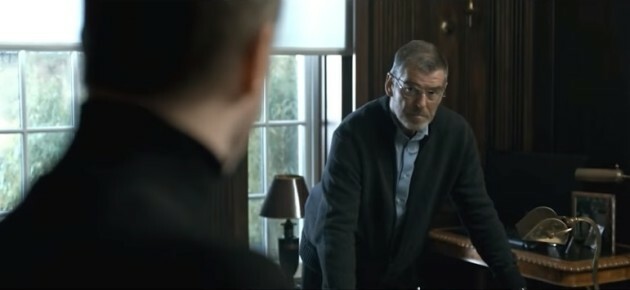 Netflix Netflix
Vulture's critic was much more positive though – saying that it's Brosnan's "interesting" character that plays the central role, perhaps surprisingly given Chan's status:
The plot is odd, too, insofar as the title character is almost peripheral, a thorn in the side of a man who's desperate to bring down the bad guys without calling undue attention to his own participation and thereby alienating his IRA-sympathetic base. That makes Brosnan the more interesting protagonist, Chan the wild card — and changes The Foreigner from a standard revenge melodrama into something weightier and less predictable. It's an awkward weave, but it has gravitas.
It's bound to prove popular when it finally arrives on Irish Netflix – but we'll have to reserve judgement on the most important aspect: Brosnan's Irish accent.
If Pierce can't even pull it off, the Irish accent in international film seems doomed forever.
DailyEdge is on Instagram!