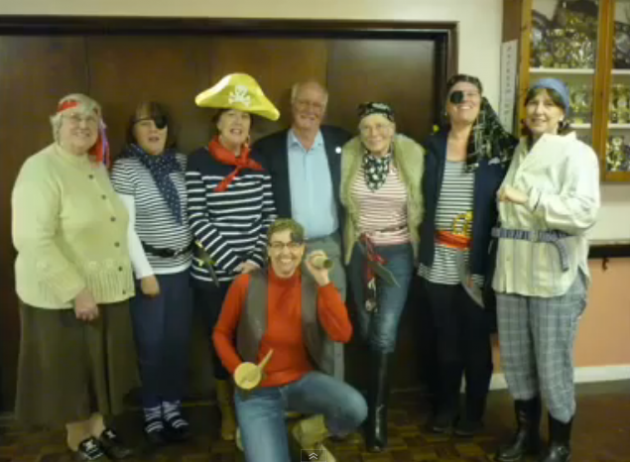 Colin Darch (centre) with his latest pirate captors. (Screengrab via YouTube)
TO SPICE UP a scheduled talk about piracy on the high seas, the members of a Women's Institute chapter decided to dress in eyepatches and Jolly Rogers.
However, it turned out that Colin Darch was arriving at the North Devon club to discuss his experience of being held hostage by Somali pirates.
Stephanie George, the member who suggested the group dress up, told the North Devon Journal:
There he was delivering this harrowing story about how he was held hostage and feared for his life, and we were all sitting there dressed as Captain Hook.
After the initial embarrassment, they still made Mr Darch judge the best pirate costume. He said:
In the end I decided to choose the one with who had a fluffy parrot on her shoulder. Of course there weren't any parrots near the real pirates.
Darch , 75, and a retired sailor who has written a book and given lectures about his 2008 kidnapping, says his audience was sheepish over the mix up.
He says, "I think they were worried I might be a bit upset that they were trivialising it, but I thought it was funny."
Here are some of the women discussing that eventful evening:
YouTube/NewsDailyTVWorld
- Additional reporting AP