LET'S FACE IT, we've all been there. You need to answer the call of nature, but you're in your office. Or a shared hotel room. Or your new girlfriend's apartment.
And you're worried about the evidence you will leave in the air behind you.
Well, the product behind this bizarre new ad claims to have your problem solved. It's called Poo-Pourri, and it says it prevents any smell from being released when a Number Two occurs.
Whether you want to make the smallest room in your house a nicer place or have the confidence to indulge in a double espresso before work, you (and everyone around you) can breathe easy with Poo~Pourri.
Here's the advert:
Poo~Pourri
So how does it work? Well, according to the ad, you spray a layer of 'essential oils' on the top of the water in the toilet:
YouTube YouTube
And that layer traps any unsavoury odours beneath the surface, leaving others totally unaware of your biological functions.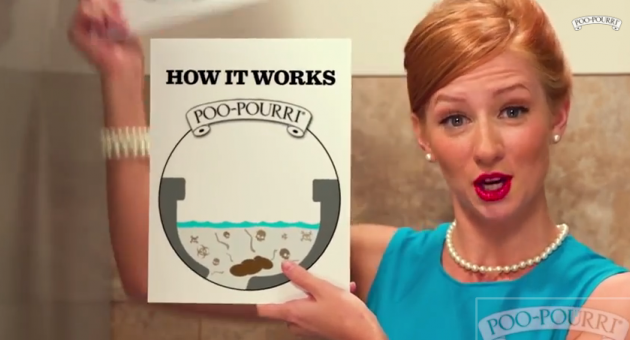 YouTube YouTube
Does it work? Well frankly, we've no idea. But a number of Amazon reviewers seem to be satisfied.
We dunno. Maybe we'll just stick to the old 'light a match after you flush'.
via Reddit