WRITER RODDY DOYLE'S Facebook page is extremely popular among his fans for its take on Irish life.
Featuring chats between two men over two pints of stout, the Commitments author dissects every day Irish life.
Last week, he took on the upcoming marriage referendum in a post that both incorporated Cristiano Ronaldo and swearing.
That posted has been shared 15,700 times and has over 44,000 likes. This evening, he has returned to the subject and, within an hour, his post has been shared nearly 800 times.
Here's the post: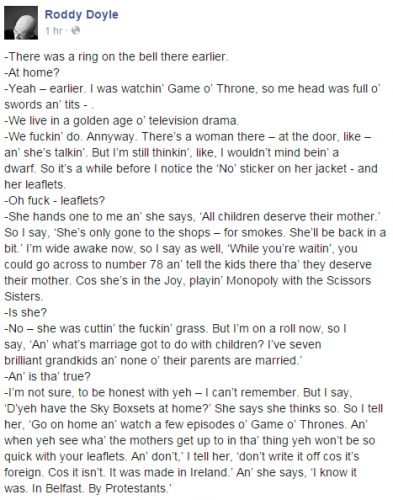 Roddy Doyle Roddy Doyle
It reads:
-There was a ring on the bell there earlier.
-At home?
-Yeah – earlier. I was watchin' Game o' Throne, so me head was full o'
swords an' tits – .
-We live in a golden age o' television drama.
-We fuckin' do. Annyway. There's a woman there – at the door, like –
an' she's talkin'. But I'm still thinkin', like, I wouldn't mind bein' a
dwarf. So it's a while before I notice the 'No' sticker on her jacket – and
her leaflets.
-Oh fuck – leaflets?
-She hands one to me an' she says, 'All children deserve their mother.'
So I say, 'She's only gone to the shops – for smokes. She'll be back in a
bit.' I'm wide awake now, so I say as well, 'While you're waitin', you
could go across to number 78 an' tell the kids there tha' they deserve
their mother. Cos she's in the Joy, playin' Monopoly with the Scissors
Sisters.
-Is she?
-No – she was cuttin' the fuckin' grass. But I'm on a roll now, so I
say, 'An' what's marriage got to do with children? I've seven
brilliant grandkids an' none o' their parents are married.'
-An' is tha' true?
-I'm not sure, to be honest with yeh – I can't remember. But I say,
'D'yeh have the Sky Boxsets at home?' She says she thinks so. So I tell
her, 'Go on home an' watch a few episodes o' Game o' Thrones. An'
when yeh see wha' the mothers get up to in tha' thing yeh won't be so
quick with your leaflets. An' don't,' I tell her, 'don't write it off cos it's
foreign. Cos it isn't. It was made in Ireland.' An' she says, 'I know it
was. In Belfast. By Protestants.'
– Originally published on TheJournal.ie