ON FRIDAY, RUSSELL Brand stormed Royal Bank of Scotland's London headquarters with a film crew and quizzed employees on their earnings and bonuses.
Now an RBS employee has penned a scathing blog post in which he criticises Brand's antics as being "puerile" and "self-aggrandising".
In the blog post entitled "An open letter to Russell Brand", the employee who identifies himself as Jo takes Brand to task for, among other things, disturbing his lunch.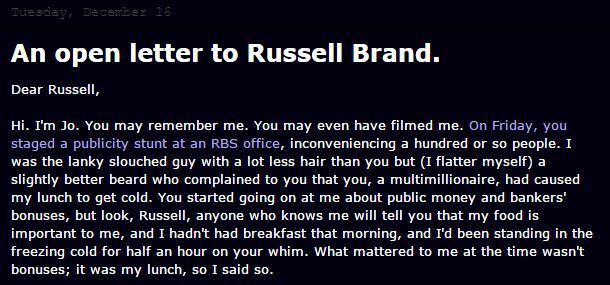 Squander Two Squander Two
Aside from that very distressing experience, the author further criticises Brand as being hypocritical and asks what he hoped to achieve with Friday's stunt.
My first question is, what were you hoping to achieve? Did you think a pack of traders might gallop through reception, laughing maniacally as they threw burning banknotes in the air, quaffing champagne, and brutally thrashing the ornamental paupers that they keep on diamante leashes — and you, Russell, would damningly catch them in the act? But that's on Tuesdays. I get it, Russell, I do: footage of being asked to leave by security is good footage. It looks like you're challenging the system and the powers that be want your voice suppressed. Or something. But all it really means, behind the manipulative media bullshit, is that you don't have an appointment.
He further added:
But instead of doing something potentially educational, Russell, you staged a completely futile publicity stunt. You turned up and weren't allowed in. Big wow. You know what would have happened if a rabid capitalist had just turned up unannounced? They wouldn't have been allowed in either. You know what I have in my pocket? A security pass. Unauthorised people aren't allowed in. Obviously. That's not a global conspiracy, Russell; it's basic security.
He also likened Brand to "a school bully" and criticised his aggressive tactics.

SquanderTwo SquanderTwo
It ends on this fairly withering burn.
If you had any self-awareness beyond agonising over how often to straighten your fucking chest-hair, you'd be ashamed.
The post has won been shared widely on social media and won significant praise.
Russell Brand has yet to respond to the letter.