TODAY, THE INTERNET unearthed this highly embarrassing tweet sent from Sam Smith's account in 2012 in which he asked Chris Brown to "turn gay".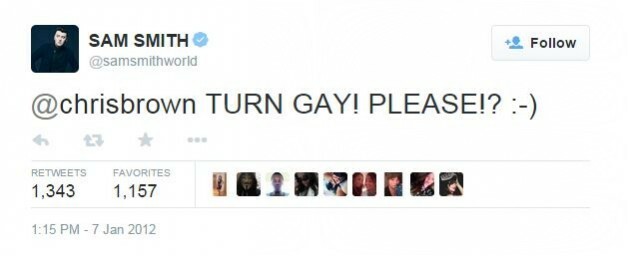 Sam Smith / Twitter Sam Smith / Twitter / Twitter
Publicly declaring your celebrity crush is always a tad embarrassing, but it's arguably even more so when the object of your affections was convicted of physically assaulting his girlfriend as is the case with Chris Brown.
The tweet was soon picked up and shared widely on Twitter with many expressing both second-hand embarrassment and disappointment.
A Google search reveals that the tweet is indeed genuine and was sent in 2012.

But when you click on it, this happens.

Meaning that Smith likely deleted the tweet today after it began doing the rounds on Twitter.
But instead of saying nothing and playing it cool, Smith has posted this tweet claiming he was hacked.
People aren't really buying it.
We think the culprit must be the same person who 'hacked' Rita Ora's Twitter account. 
Scarlet.