IT'S NOTHING NEW to hear the colourful and controversial former governor of Alaska criticise president Barack Obama but Sarah Palin's latest line of attack seems a bit strange – she has taken issue with the White House Christmas card.
The front of the card shows the Obamas' dog Bo sitting in a very Christmas setting in front of a warm fire which is decorated with wreaths and ribbons, behind him is a table full of presents.
On the inside of the card a message reads: "From our family to yours, may your holidays shine with the light of the season." It is signed by all four of the Obamas – Barack, wife Michelle, and daughters Sascha and Malia as well as Bo himself, reports the LA Times.
But it's not warm and pleasing holiday message to everyone.
According to Fox News Radio, the former vice presidential nominee and Tea Party favourite Palin thinks the card is "odd". She wonders why the president's card highlights his dog and not the traditions of 'family, faith and freedom'.
The lack of faith in the Obamas' holiday season cards has caused controversy before with their first White House Christmas card in 2009 containing no reference to Christmas and drawing the ire of some religious conservatives.
Palin believes that most Americans appreciate "American foundational values illustrated and displayed on Christmas cards and on a Christmas tree" but "it's just a different way of thinking coming out of the White House."
The Obamas did release this family portrait for the holiday season but may have missed a trick with some by not putting it on the Christmas card. Always next year…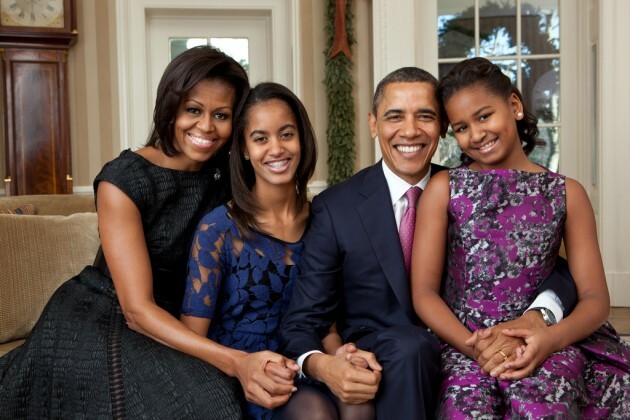 Credit: White House Flickr