THE VERDICT IN the Belfast rape trial has caused quite a reaction over the last week or so. We've seen rallies in support of the complainant up and down the country as well as hashtags protesting the system that complainants find themselves up against.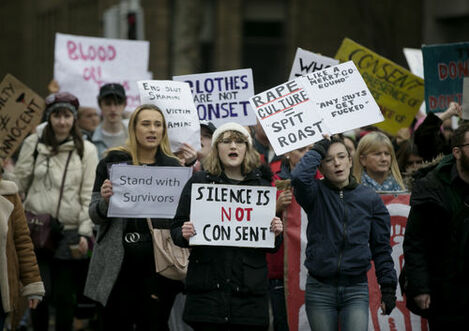 Source: RollingNews,ie
Of course we have had cases like this before where people say that things need to change and it's a hot topic for a few days before we all move on. But not this time. This time it feels like the tide is shifting towards change for the better.
Minister for Justice Charlie Flanagan announced yesterday that he will review the legal protection offered to complainants in sexual assault cases in the Republic of Ireland as a direct result of the Belfast trial.
So where do we as a general population go from here? Well oddly enough it's sports podcast Second Captains and sports programme Off the Ball who are showing us the way.
Source: Off The Ball/YouTube
Both programmes have a male dominated demographic and in the wake of the verdict, both shows decided to tackle the issue of consent.
Second Captains felt it was so important that they made the episode free  for everyone to listen to instead of putting it behind their paywall. You might wonder why this is important. If the audience is mostly male then some of them might be hearing other men talk about consent for the very first time.
It's also raising the interesting point of whether or not the sports environment adds to toxic masculinity and whether being praised and given what you want from a very young age for being good at sports increases the sense of entitlement one might feel.
Consent and sex are not exactly subjects that we bring up around the dinner table or down at the pub which of course is the problem in the first place.
An informed and intelligent conversation around consent, the privilege of sportsmen & toxic dressing room culture @secondcaptains https://t.co/WDkzkjS2X7

— Sharon Horgan (@SharonHorgan) April 1, 2018
What was interesting about Second Captains is that in the first five minutes, one of the hosts Ken Early summed up the entire backlash to the #IBelieveHer hashtag very simply.
You could see this kind of anger coming out. People don't want to look back on their own behaviour and start to think of themselves as having done something wrong and the thought that you might have to do that is quite threatening.
The podcast goes on to platform an incredibly interesting and informative conversation about consent with Sinead O'Carroll, news editor at TheJournal.ie and Richie Sadlier, a former Irish international which is a qualified psychotherapist. Sadlier also runs a Transition Year module where he teaches student about consent amongst other topics that have historically been tricky for Irish people.
This is excellent, but still only feels like a nervous start to a conversation. https://t.co/ttQlOejMNf

— Dara Ó Briain (@daraobriain) March 30, 2018
At one point Sadlier made an interesting point about sports culture in general and the way it can effect people. Sadlier described when he was looking for an agent and how the agent would look after every aspect of his life as a sports player. What stood out to him was the PR person.
I really remember their pitch. It was 'Whatever way you behave, if the media find out, we've relationships with the editors' and if there's a story on you we'll negotiate with those papers to get the story out of the papers in exchange for a big profile interview with some bigger player. So you're kind of in this world where you think 'It doesn't matter what I do, I'm going to get away with it'.
And therein lies the problem. While not all sports stars are going to behave that way, couple that attitude with a country that doesn't talk about consent or sex and you've got a disaster waiting to happen. But Dara O'Briain is right, this is only a nervous start.
This might be the best, most wide-ranging pod I've heard on topics of sexual consent, porn & youth, assault & entitlement in pro sports. Featuring a former Irish footballer on locker room culture.

So impressed. Highly recommend a listen! https://t.co/94eGGwtGoh

— Sarah Spain (@SarahSpain) March 31, 2018
This is why these episodes are so important. We as a country are finally waking up to the problem that we created for ourselves. By refusing to talk about these topics we've created a society that presumes rather than asks. We've created a culture of entitlement which leads people to think that going home with someone means you'll have sex with them.
I've never listened to Second Captains before but this was incredible, a gripping, vital listen. https://t.co/NZPJRoq0Qe

— Neasa Conneally (@neasaconneally) March 30, 2018
Consent should not be that difficult a topic to teach to people. Consent classes in college are great but they're far too late. Surely we can sow the basic seeds by teaching 4 and 5 year olds not to hug someone if they don't want to be hugged? All you have to do is teach them to ask 'May I hug you?' first and that's it.
It's consent without teaching young children about sex.
One thing thrown at people constantly is 'Are we supposed to get them to sign a contract?'. No but what you can do is ask simple things like 'Do you like that?' 'Where do you want me to touch you?' 'Is this ok?' or 'Can I touch you there?'. They are all pretty simple ways of establishing continuous consent. It doesn't have to unromantic. When done right, it can be very hot.
Amid all the noise and hateful rhetoric in the aftermath of the Belfast rape trial, @SineadOCarroll and @RichieSadlier offer a clear, intelligent and measured insight into young men AND women's relationship with sex in this country. A must listen. https://t.co/PKspcNfvTK

— Sorcha Pollak (@SorchaPollak) March 30, 2018
I love sport but I find it hard to reconcile some of the attitudes to women that I've come across in my life as a fan.
That's why it's so heartening to listen to men actually LISTEN to women about their experiences and talk about the issues. It doesn't have to be difficult. It looks like we could be heading that way too as the Minister for Education Richard Bruton announced that he was going to review the Relationships & Sex Education (RSE) curriculum for the first time in 20 years.
On Friday Second Captains released their Champions Cup preview show. At the top of the show they mentioned one listener named Wayne who had listened to the consent conversation and then had gone and had a chat with his two sons about consent. That's the effect that these shows can have and that's why it's so important for people not to be afraid to talk about these subjects. You never know whose minds you might change.