SINGER SINEAD O'CONNOR has taken to Facebook this evening to call out the latest issue of Rolling Stone – the one that features Kim Kardashian on its cover.
Ending her post with the hashtag #BoycottRollingStone, Sinead wrote that music has officially died: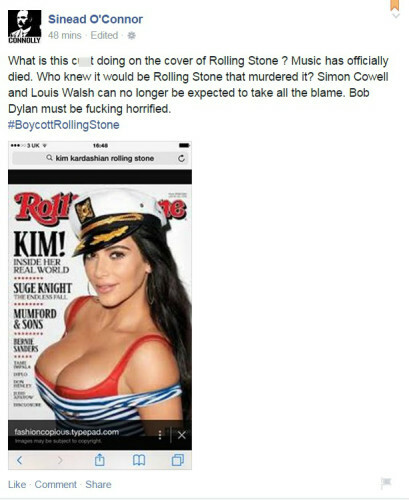 Facebook Facebook
The post is already going viral on Facebook, with over 3000 likes and 500 shares in less than an hour.
The latest issue of the magazine was released this week, and the cover has been attracting a lot of attention
H-cdn H-cdn
All the top-voted comments underneath Sinead's post have been supportive of her opinion
Rolling Stone hasn't been about the music for a long while now.
I seriously have NO respect for Rolling Stone here on out….
The worst choice for a cover in rolling stone history….
With some saying that the magazine has always chosen what is popular
It's a pop magazine. I love you Sinead but Rolling Stone does not define good music or taste. Don't give them so much credit. Every now and then they do something good, but in general, it's always been what's popular.