THERE ARE SIXTH-year pranks, and then there are sixth-year pranks.
This is one of the more enterprising: some students in Skerries put their entire school up for sale on DoneDeal.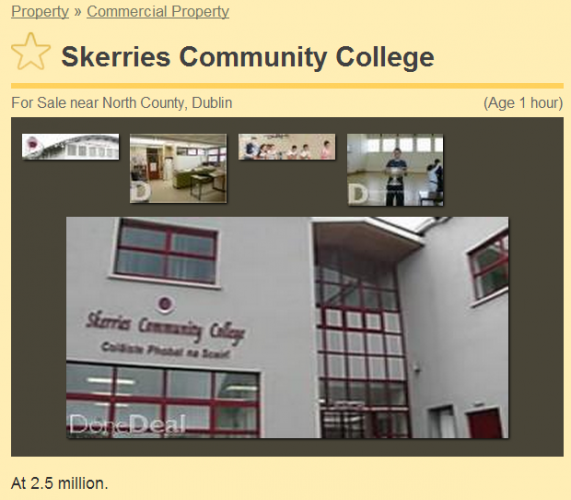 DoneDeal.ie DoneDeal.ie
And it's going cheap at €2.5million. The students seem to be pitching it as some kind of mega-mansion:
Large 25,000 sq ft building over 2 stories at present housing a secondary level school. Art rooms, Woodwork rooms, Science labs, library, assembly hall, basketball court, large gym hall and 50 other classrooms. Equiped with WiFi.
One for Donald Trump maybe?
Persons with an interest may phone 01 – 849 0011 for further information.
(Yes, that's the school phone number.)
The ad – which has already been taken down – says it was posted by one Kevin O'Riordan. Kevin O'Riordan is the principal of Skerries Community College.
We're guessing the pranksters are in detention right now. Heroes.