EVERY MORNING, we dig through the celebrity dirt to bring you the best of it. Here's The Dredge…
Robert Pattinson – or at least, flunkies for Robert Pattinson – will be putting all Kristen Stewart's stupid girl stuff into fruit boxes and leaving it by the front door as he prepares to sell up the home they shared.
The $6.3million LA gaff has "amazing gardens", apparently, but that wasn't enough for R-Patz as those gardens are filled with  "too many memories". (Us Weekly)
But Robert is willing to talk about who should get the Bob Marley best-of. He's agreed to meet Kristen after a phone call which "made him feel sad for her". (HuffPo)
~
The Words
Lots: How much a sex tape featuring Prince Harry would be worth, according to sex tape supremo Steven Hirsch, who knows a thing or two. He was speaking after claims that video footage exists of the naked Vegas pool party. Meanwhile, it's emerged that Harry's next appearance will be hosting an event for sick children. (E! Online, Radar, Perez)
Your mum: What Kanye West has allegedly requested that Kim Kardashian not turn into, as Mrs K (actually, Mrs J) is "fearsome". Says a 'friend': "Kim already shares some of her traits [...] He's terrified that as she gets older she'll become more like her mum." (OK!)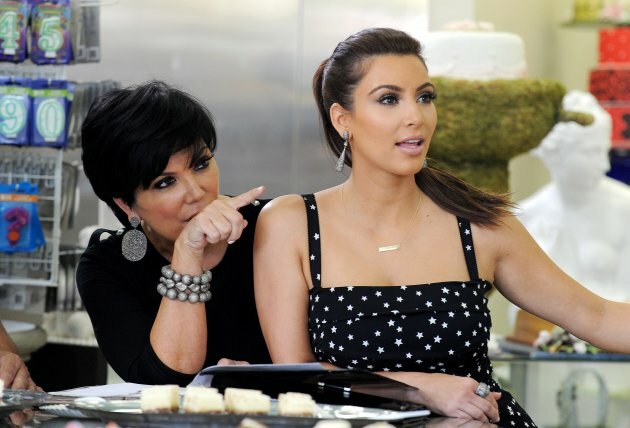 R-L: Kim Kardashian,mum (Vince Flores/UK Press/Press Association Images)
Artistic integrity: The quality of Shia LaBeouf that his girlfriend formerly appreciated, but is now no longer so sure about, after learning that he will be taking part in a real, actual, non-acted sex scene for new Lars Von Trier movie Nymphomaniac. "It's difficult for her to understand," a source said.  (Radar)
~
The Dirt
Lindsay Lohan won't be charged over that jewel theft after all, and besides the jewels didn't exist, but she's blaming someone else anyway. (Perez, TMZ)
Jennifer Aniston totally, totally trusts fiancé Justin Theroux, because they won't be having a prenup. (EnStarz)
Breaking: Ronan Keating is "only human". And he has "failed at certain things", he acknowledged. (Irish Daily Star)
The glue that binds Russell Brand and Geri Halliwell together, inseparable? That would be the downward facing dog. (The Sun)
Olympic medallist in diving and heartthrobbery Tom Daley is having a lovely time on his holidays: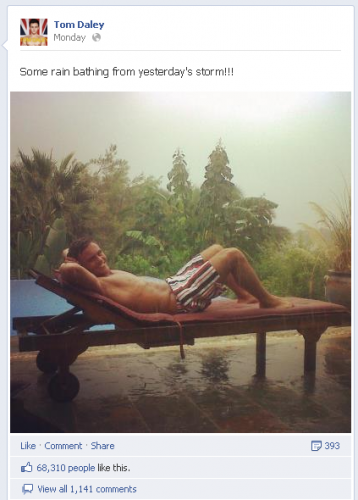 ~
The Barrel Scraper
Comes today courtesy of Motley Crue guitarist Nikki Sixx, his girlfriend, and TMZ:

All class.