EVERY WEEKDAY MORNING, the Daily Edge rounds up the best of the day's celebrity dirt from the top to the very bottom. Here's The Dredge…
Doug Peters/EMPICS Entertainment
Who's tying the knot? Jessica Biel and Justin Timberlake. That's who.
But doesn't it feel like they've been threatening to get married for about 17 years?
Double-J are in Italy to receive guests in advance of their wedding this weekend in Brindisi in southern Italy. (Daily Mail)
According to the LA Times Biel's Seventh Heaven co-star Beverley Mitchell (she played the sister, Lucy… and did you know she is in fact 14 months older that Jessica Biel?) and SNL funnyman Andy Samberg are among the people who have already arrived at the exclusive venue.
We're with Amy Huberman on this one:


Justin Timberlake's love life has not been too shabby. Remember when he went out with Cameron Diaz for what seemed like 11 years?
Wait, just how old IS the Timbersnake?
The Words
Stink: Khloe Kardashian-Odom and her husband Lamar Odom have launched a new fragrance in time for Christmas. It's their second joint bottle of pong together. Just what does Unbreakable Joy smell like? (Daily Mail)
Khloe and Lam-Lam forever (Twitter)
Twenty-six: That's how young Wyclef Jean feels despite turning 43 this week. He posted a picture of himself in his underpants inexplicably straddling a motorbike to prove his point.  (NY Daily News)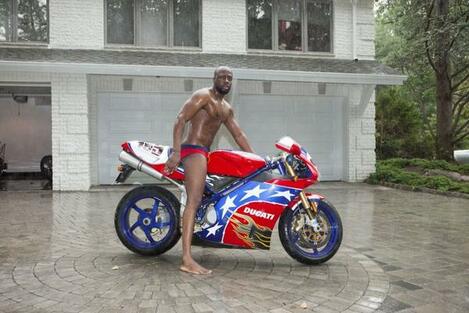 Whoever took this photo deserves kudos for taking a clear shot while undoubtedly shaking with laughter (Twitter)
Girls Girls Girls! Today is the day that Girls Aloud will be revealing their 'big announcement', most likely about a reunion tour and possible a 'Best Of' album? They unveiled their new single Something New earlier this week and yesterday their PR company tweeted a picture of all of the covers of the band's previous singles. (Yahoo News)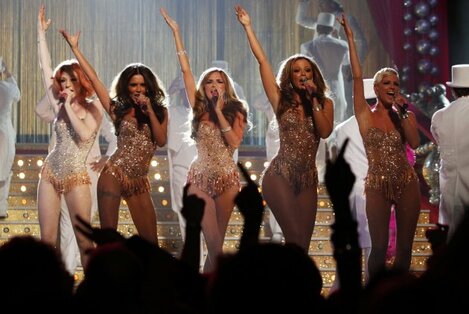 "What date of birth did I give?". This will remain forever our favourite Nadine Coyle moment. (Yui Mok/PA)
The Dirt
Simon Cowell is going out with Jenson Button's ex-girlfriend (*cough* sloppy seconds *cough*) (The Irish Sun)
Brat Pitt's mother is getting an invite to Jennifer Aniston's wedding to Justin Theroux (Irish Daily Mirror)
Roz Purcell is set to become the first ever GAA manager to take a training session in a bikini (probably) in this weekend's episode of Celebrity Bainisteoir (The Irish Daily Star)
Kim Kardashian and Kanye West are in the Vatican. Well holy God! (Perez Hilton)
The Barrel Scraper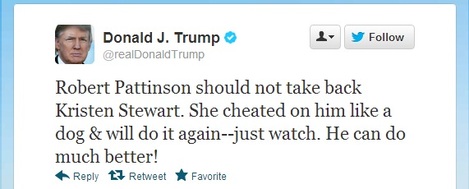 Who knew Donald Trump had so many feelings about K-Stew and R-Pattz? (Twitter)