ALMOST 500,000 PEOPLE tuned in to watch the TV3 Toy Show.
The Christmas Toy Show was watched by an average of 472,100 people (28.16% of those watching television), with the programme reaching 1.1 million people in total.
Last year, the show achieved average viewing figures of 352,000.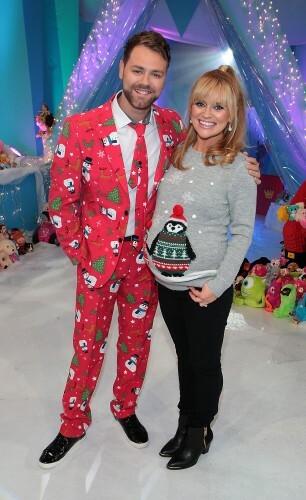 TV3 Presenters Brian McFadden and Karen Koster TV3
This year the programme took a 40% share of housekeepers with children watching television and a 54.41% share of children aged 4-14.
More than 2,000 people watched the show on the TV3 Player.
The peak quarter (20:30 – 20:44) averaged 545,300 viewers and a 33.64% audience share. It was also the most watched programme during its one-and-a-half hour time slot on Friday.
Among the highlights of the show was presenter Brian McFadden's suit.
TV3 TV3
Victoria O'Brien, the show's executive producer, described it as a "huge success".
It was a 90 minute live show but everyone had so much fun that the time flew by. The fantastic ratings prove that there really is room for two toy shows in Ireland and we're already looking ahead to next year's.
Last year, RTÉ's Toy Show was watched by an average of 1.4million viewers. This year's show is due to air on Friday. As of yet, there's no word on what Ryan Tubridy will be wearing.