IF YOU EVER get bored with what celebrities have to say on Twitter (sample tweet: "The world is our office" – Kanye West) or find that your friends have become too predictable on it, there's a whole other type of account you could be following: inanimate objects.
Sometimes topical – Angelina Jolie's right leg had its own account within hours of her baring it at the Oscars in February – and sometimes not – photocopiers, toasters, curry sauce – there's a unexpectedly high amount of inanimate objects sharing their thoughts and feelings on the world.
Check out the list of the best objects with twitter accounts that we found.
Name: Big Ben
What does it do: The granddaddy of inanimate object Twitter accounts, the Big Ben account has been running for three years and racked up almost a quarter of a million followers. Pretty impressive for a such a lo-fi account. Every hour on the hour, the account tweets the number of bongs to chime with whatever time it is. Pointless and yet weirdly compulsive.
Sample tweet:

Name: Spotticus Giraffe
What does it do: The aptly titled Spotticus the Giraffe in the Natural History Museum in Dublin tweets about life in the museum after hours, as well as anything else that takes his fancy – lately he's been offering a nice line in football commentary during Euro 2012. His compadre Anto the Dodo, a fellow resident of the Dead Zoo, hasn't let being extinct stop him from tweeting either. Next up: we're hopeful that the chimps from the museum will be allowed to join the tweet machine at some point…
Sample tweet: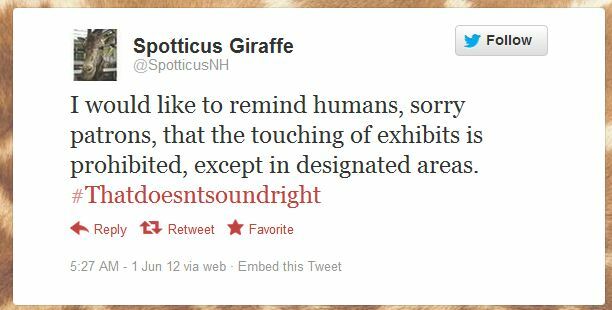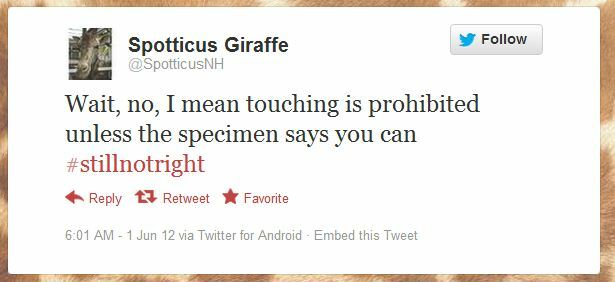 Name: Mars Curiosity Rover
What does it do: This unmanned NASA rover is currently en route to the Red Planet and is expected to reach it at the start of August. The long journey is clearly giving it a long of time to tweet – it specialises in slightly surreal first-person tweets about its technical abilities and how excited it is to be heading for Mars. Still waiting for it to start tweeting about its loneliness and how it longs for some human/machine interaction.
Sample tweet: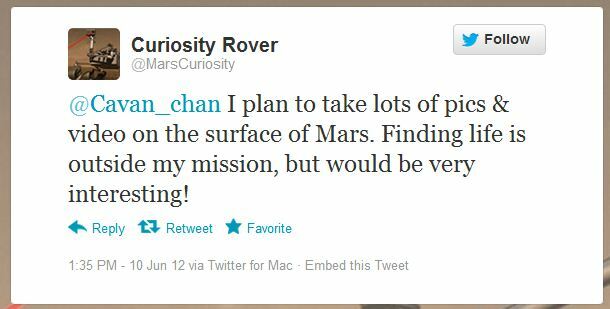 Name: The Scream
What does it do: For a painting that's almost 120 years old, Edvard Munch's The Scream has got a lot of issues. It tweets about its inability to find love, dealing with modern-day problems ("Aaahhhhh!!! #IGetTheWorstSunburn") and how it's better than Justin Bieber.
Sample tweet: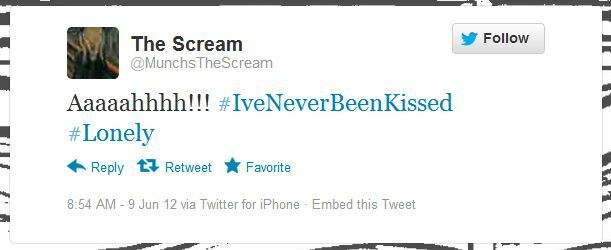 Name: Natural History Whale
What does it do: The Natural History Museum in New York City has a giant life-size blue whale hanging from its ceiling. The balaenoptera musculus, believed to be the largest animal that has ever lived, doesn't let its lack of opposable thumbs stop it from tweeting, mainly about how sad it is when other whales get killed mixed with observational humour about what it can see from the ceiling.
Sample tweet:
Name: Photocopier
What does it do: As its bio says, this photocopier tweets what it sees. This mainly involved A4 copies ("not a lot to report. i'm sorry. i copied an A3 spread sheet. and an A4 double sided 6 times. but thats about it. sorry.") so it gets especially excited when there's a break from the norm.
Sample tweet: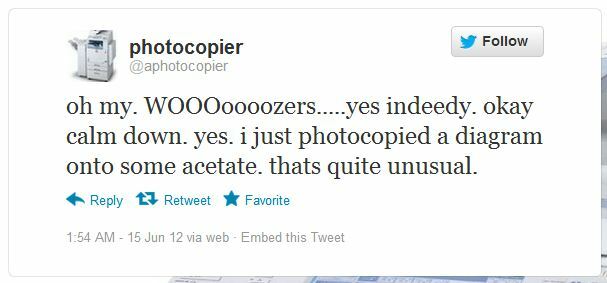 Name: Sad Apostrophe
What does it do: The short-lived Sad Apostrophe twitter account started earlier this year when book chain Waterstone's announced that it was dropping the apostrophe from its name. Before it stopped tweeting in March, the discarded apostrophe gained something of a cult following for tweeting about its life after being let go.
Sample tweet: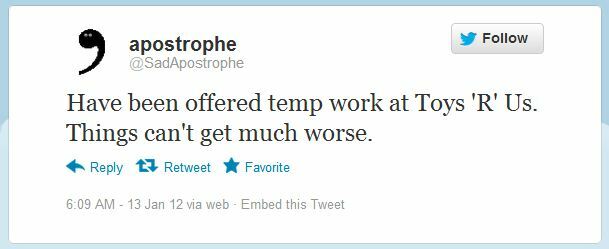 Name: Angelina Jolie's Leg
What does it do: Months after the original novelty wore off, Angelina Jolie's right leg is STILL tweeting.
Sample tweet:
Do you follow any good inanimate objects on Twitter? Or got any suggestions for something you'd like to see on the tweet machine? Let us know in the comments.