DUBLINER DAVID REARDON and Zara Johnston got married in the Avon Rí resort in Wicklow over the weekend.
At the time, some of the cast of The Vikings were filming nearby.
So David and Zara did the only decent, natural thing: take the best wedding picture Wicklow has ever seen.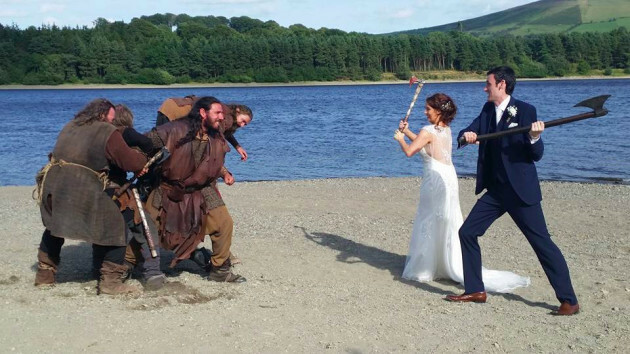 David Hollywood David Hollywood
It's probably fair to say they nailed it.
David told DailyEdge.ie how the wedding photo came to be:
We got married outside overlooking the Blessington lakes,so the wedding ceremony was on view when they were filming on the lakes. When the ceremony ended one of the show's directors asked our wedding planner if we would like to get some pictures with the cast. We couldn't miss out on the opportunity. 

The cast were all so welcoming to us and played out any scenario we wanted for pictures.
The photo has now been shared all over Facebook. How does he feel about that?
We never thought the picture would get this much attention, but we are delighted that such a fantastic day is now shared with so many.
Congratulations David and Zara! And thank you for raising the bar for Irish wedding pictures. We hope it gets pride of place on top of your telly.