US SUPERMARKET GIANT Walmart was forced to apologise after a fat girl costumes section appeared on their website. The section was first called out by Jezebel after a reader noticed the category, causing a massive backlash on Twitter.
Walmart spokesman Ravi Jariwala later apologised for the phrasing, telling Buzzfeed that the category should have "never been on the website" and it is "unacceptable".
We first heard about it this morning our teams immediately engaged, we're working to remove it as soon as possible and make sure it never happens again.
The section has now been changed to 'plus sized costumes', and the the /fat-girl-costumes link redirects here.
It's not known how the section came to appear on the website, but Jezebel speculated that it could be the result of a developer's  joke that was not removed before putting the category live.
But they're not out of the red zone yet. Redditor KnodiChuncks later spotted this ad knocking above the plus sized costumes.
Facepalm.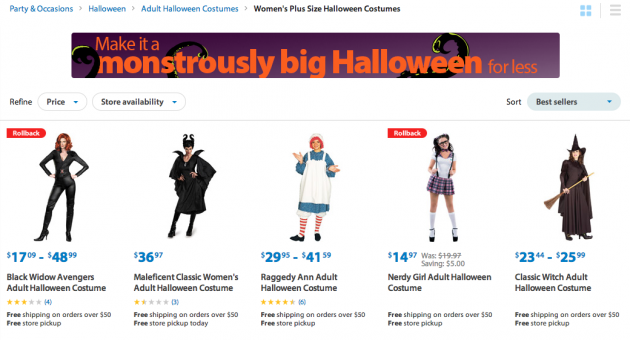 Imgur Imgur