WITH SO MUCH talk of improving representation across the media and entertainment industries, it's great to see that it's resulted in some action.
lupita nyong'o, beyoncé, zendaya, and rihanna are all on september magazine covers for 2018.

WHAT A TIME TO BE ALIVE!!! pic.twitter.com/D6RHt7dC4e

— mia (@lvstbleu) August 6, 2018
But there's actually even more to celebrate.
Last night, Janelle Monae shared an Insta pic that's going viral. The post highlights the ten major fashion magazines that have put black women on the cover of their September Issues.
This is a big deal.
September is the most important month for Fashion magazines.
From top left we have…
1. Beyoncé on American Vogue
This is rumoured to be Anna Wintour's last September issue as Editor-In-Chief of American Vogue and she pulled it out of the bag…
Before this, Beyoncé had only given 3 magazine interviews in 5 years. However, her participation came with some clauses. Queen Bey insisted on having editorial control of the shoot, right down to the captions chosen for the photographs.
Source: Vogue
Beyoncé also handpicked the shoot's photographer, choosing 23-year-old Tyler Mitchell who made history as the first black photographer to shoot a Vogue cover in the magazine's 126 year history.
2. Rihanna on British Vogue
Rihanna became the first black woman to be the cover star of British Vogue's September issue.
But the cover spread anxiety that skinny eyebrows were back, just after we had finally managed to grow ours out.
3. Lupita Nyong'o on Porter
Porter Porter
In Porter, Academy Award winner Lupita spoke about writing a children's book, which is due to be published next year.
The book was inspired by a 2014 awards ceremony speech she gave.
It [the speech] was about having dark skin in a world that favors traditional Western standards of beauty – light complexions and silky hair – and my own journey from insecurity to a place of self-acceptance. I was touched by how it had resonated with so many people of color, and not just black Africans.
Porter Porter
I started to realize that there was a demographic that really needed to hear this message but wouldn't hear my speech. I wanted to get to kids before they reach an age where the world is telling them they are not as valuable.
4. Issa Rae
Issa Rae, the creator, star, and co-writer of HBO's hit comedy series Insecure was on the cover of Ebony.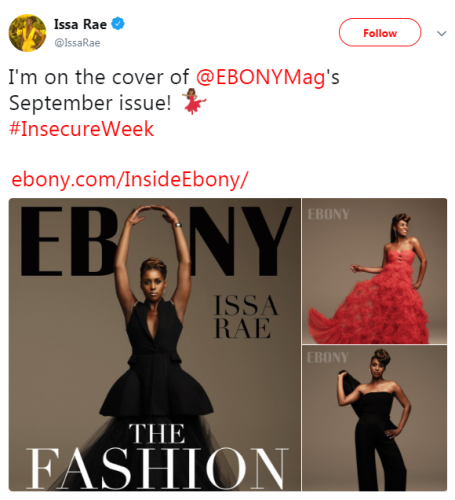 She's won two Golden Globes and a Primetime Emmy for her acting in the series.
Issa was discovered through her Youtube web series Awkward Black Girl, and she later based Insecure on it.
5. Yara Shahidi on The Hollywood Reporter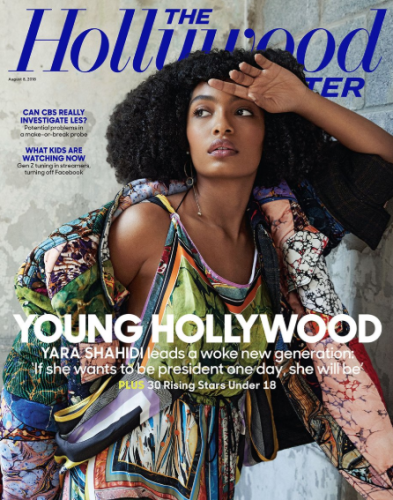 Hollywood Reporter Hollywood Reporter
Yara became a breakout star on the American sitcom Black-ish. She starred in it from 2014 until last year, when she became the lead on its spin-off series Grown-ish.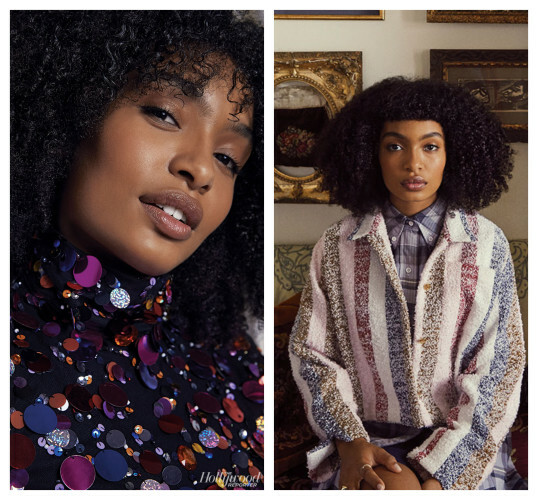 Hollywood Reporter Hollywood Reporter
Yara, who is set to become a first year student at Harvard next month, posted last night about the other September covers mentioned here and explained why September issues were such a big deal.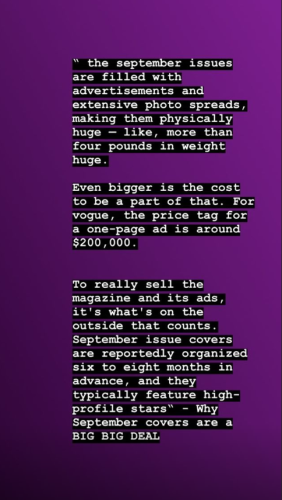 Instagram / yarashahidi Instagram / yarashahidi / yarashahidi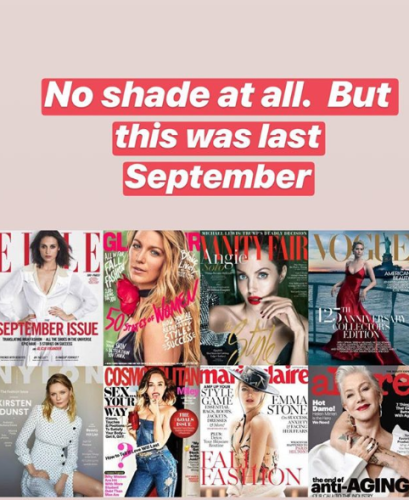 Instagram / yarashahidi Instagram / yarashahidi / yarashahidi
6. Zendaya on Marie Claire
Zendaya is a rare creature indeed. A Disney star who is yet to be embroiled in scandal or a public exploration of a polar opposite identity.
She starred as MJ in 2017's Spider-Man: Homecoming, and will reprise the role for next year's Spider-Man sequel.
She's used her platform to speak  about representation:
"As a black woman, as a light-skinned black woman, it's important that I'm using my privilege, my platform, to show you how much beauty there is in the African-American community. I am Hollywood's, I guess you could say, acceptable version of a black girl, and that needs to change".
We're vastly too beautiful and too interesting for me to be the only representation of that. What I'm saying—it's about creating those opportunities. Sometimes you have to create those paths. And that's with anything: Hollywood, art, whatever.
7. Aja Naomi King on Shape
For the past four years Aja has starred on the addictive drama series How To Get Away With Murder.
She was in Dublin this Spring filming A Girl from Mogadishu, which tells the story of Somalian-born Ifrah Ahmed who is now an Irish citizen after emigrating here in 2006. Aja will play Ifrah who has become a world-renowned humanitarian activist.
8. Tracee Ellis Ross on Elle Canada
Tracee is the daughter of singer Diana Ross, but has become best known for her acting. Along with Yara, Tracee is another star of Black-ish, and plays the role of her mother.
For the role, Tracee has won a Golden Globe and has been nominated for three Emmys.
9. Tiffany Haddish on Glamour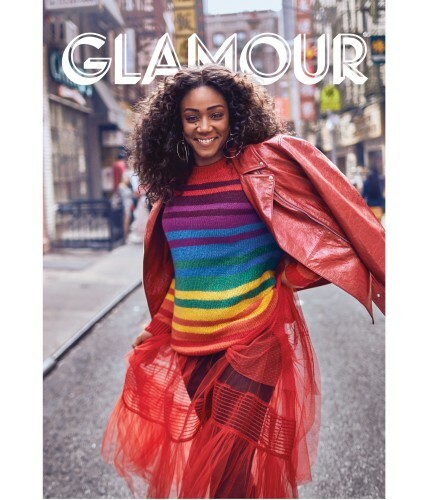 Glamour Glamour
Tiffany's role in last year's Girls Trip catapulted her into fame and stardom this year. But it hasn't changed her. Her brash sense of humour and candid nature has won her many a fan, as has using her platform to speak out about social issues affecting women.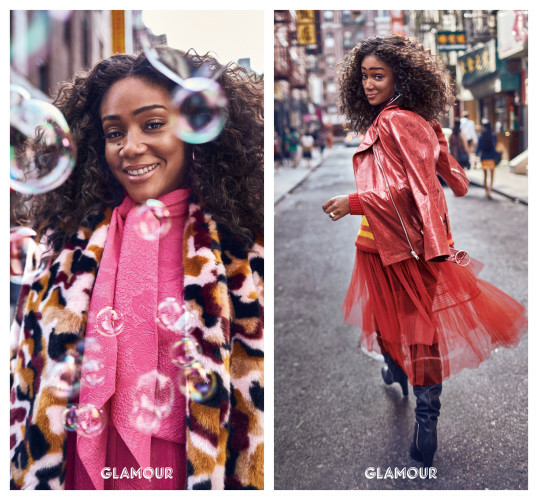 Glamour Glamour
Her Glamour interview was no different, where she bravely spoke about the experience of being raped as a teenager.
10. Slick Woods on Elle UK
Discovered just over two years ago on an LA street when she was 19, model Slick Woods has had a fast rise through the fashion industry.
Her first real modelling gig was for Kanye West's Yeezy in 2015 and this year Rihanna made her the face of Fenty x PUMA.
With a plethora of models seemingly only models because of their famous parents and help of their parents' surgeous, it's refreshing to have a model who is famous because of her natural and unique looks.
She's currently eight months pregnant with her son Saphir.
DailyEdge is on Instagram!