SO MANY PEOPLE start the year off with a declaration that they're going to try new things. Well, this Irish guy has gone one better.
Keith Farrell came up with an idea to supercharge his 2015 by thinking of 52 activities that he had never done before – and then to try one of them every week of the new year.
So, his plan was this: get a full deck of cards and write down one idea per card, then every week get a friend or family member to pick one out. He would then have to do it, with the pressure of expectation and the fact that he's blogging his whole experience under the title of 52 Things in 52 Weeks.
Here was challenge number one: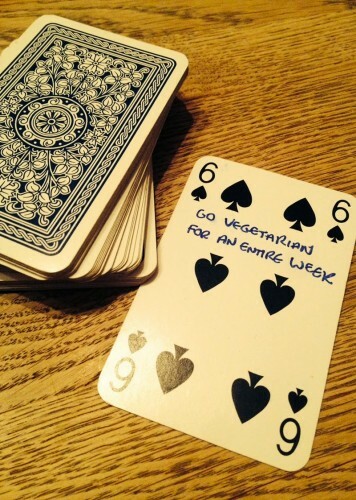 BlogSpot BlogSpot
Speaking to DailyEdge.ie, Keith told us how the idea came about:
The idea for my 52 things in 52 weeks came, as most things do in Ireland, from a conversation with a friend in a pub in November of last year at a time when I'd been mulling over a vast list of things that I wanted to get done in 2015.
Keith's friend suggested that he write the tasks down into a blog – so it would put him under pressure to get things done in 2015.
It's often human nature to take the easy way out so I wanted a way of randomly selecting the tasks so I'd have to do whatever came up, regardless of the level of difficulty! This is where a pack of cards came in handy. 52 cards for 52 tasks in 52 weeks.
So, with the rules set, the card would be picked every Monday and each task had to be completed by the following Sunday with photographic evidence submitted to the blog.
http: / /keiths52thingsin52weeks.blogspot.ie/ http: / /keiths52thingsin52weeks.blogspot.ie/ / /keiths52thingsin52weeks.blogspot.ie/
There are a couple of Jokers in the pack, though, which gives him an element of surprise:
I worked up a list of 60 odd ideas before narrowing it down to the final 52. I'm still thinking of tasks I should have included in the deck so I've decided to put the 2 Jokers back in the pack which, if pulled will give me an extra task, of my choosing, to complete that week as well as having to complete one of the original 52.
This isn't all just for the craic and self-motivation though:
For each task I'm donating €10 to MADRA, a brilliant volunteer-run organization based in Connemara that is dedicated to finding new homes for unwanted, neglected or abandoned dogs. I've invited people to match my donation on any given week and help raise funds for a great cause.
Here's Keith attempting a new sport as part of his Week 2 challenge – try a new sport. He went for Extreme Ironing: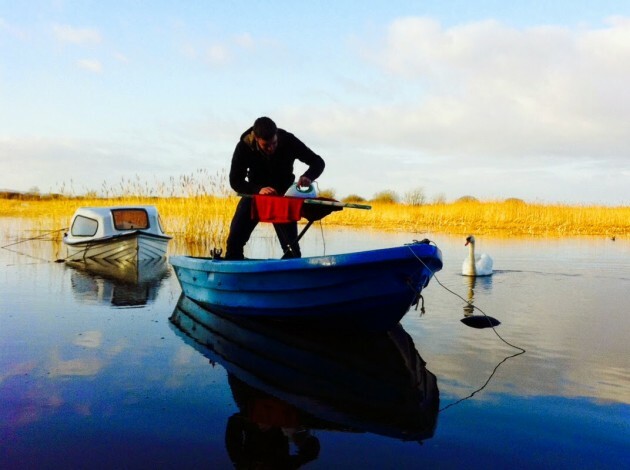 Blogspot Blogspot
So what kind of stuff does Keith have lined up for himself for the rest of the year? Here he gives us an insight into what's on those cards:
The tasks vary greatly in size and difficulty and range from baking my mum's legendary chocolate cake recipe to visiting all 32 counties of Ireland in a single week.
He lets us know that the tasks include donating a day of his time to a charity, watch 3 classic movies he's never seen and meet up with a friend he hasn't seen or spoken to in over a year.
Last week's task saw Keith paint a picture as part of the project. This was the (pretty impressive) result: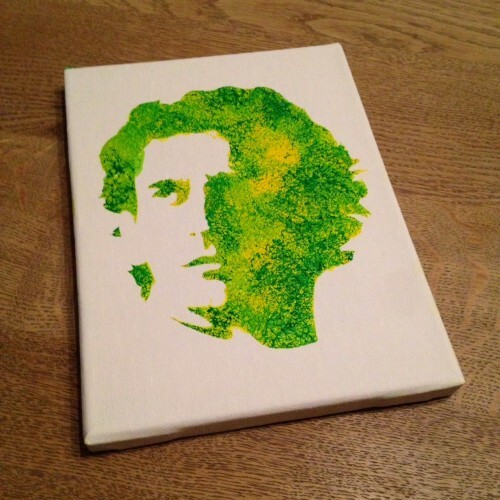 BlogSpot BlogSpot
The real question though, is whether there are any cards in there that fill him with fear:
There are no cards that I'm particularly dreading but some of them definitely take me outside of my comfort zone, none more so than the ones that tell me I have to go to a swing dance class, knit a scarf and go busking.
BlogSpot BlogSpot
This week's task sees Keith attempting to learn the sign language alphabet by this Sunday – and post photographic evidence. Follow it all here for the updates.