HOW MUCH DO you know about Bristol?
Maybe not enough – but probably more than you think. Bristol is a diverse, culturally-rich and architecturally beautiful English city tucked in the southern reaches of the country, built around the River Avon. And, what's more, it's full of surprises…
1. Street art
Though Banksy fiercely guards his anonymity, it is known that he started out in Bristol's underground scene and he is widely believed to have been born there. Bristol has a thriving street art scene, and pieces by Banksy (and other notable graffiti artists) can be seen on many street corners.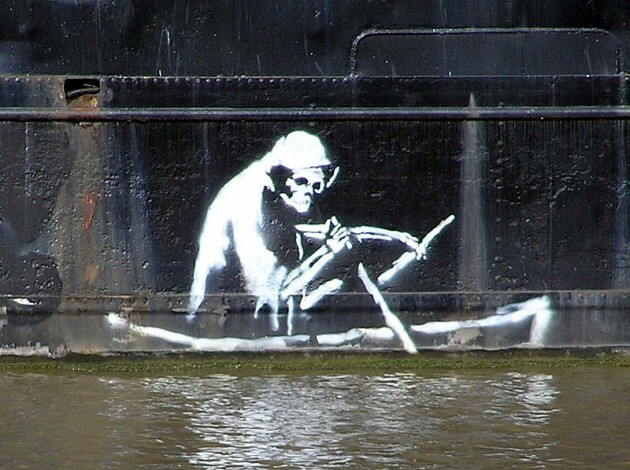 Wikimedia Commons An art work by Banksy, based on a 19th century etching of Death, spray-painted on the Thekla Social entertainment boat, central Bristol. Wikimedia Commons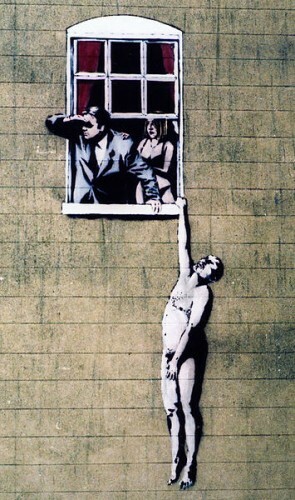 Wikimedia Commons Banksy graffiti on the Bottom of Park Street, Bristol. Wikimedia Commons
2. Lee Evans
Lee Evans is one of England's most popular comedians. He has become one of the UK's highest-selling stand-ups – with his Roadrunner tour grossing £12.9m. He has also appeared in many big budget Hollywood movies, including The Fifth Element and There's Something About Mary.
Gothicprincessxx100
3. Music
The music scene in Bristol in the '90s spawned a bunch of incredible bands – mostly in the genres of dub, funk and trip hop. Artists from Brizzle include Portishead, Massive Attack and Tears for Fears.
Red Lines
4. Blackbeard
Not only can Bristol claim Banksy, one international man of mystery, as its progeny, but also the equally mysterious and notorious English pirate Blackbeard – albeit about four centuries previous…
Blackbeard operated around the West Indies and the American colonies, capturing ships and battling other boats.  His story is well-documented by historians, but has also taken on a life of its own in popular culture. Arr!
5. Aardman Studios
Although Wallace and Gromit, the quirky stop-motion comedy duo, live in a fictional Wigan, the characters and their movies and shows are actually produced by Aardman Animations in Bristol. Nick Park, creator of Wallace and co, joined Aardman in 1985. Their first outing, The Wrong Trousers, aired in 1993.
In recent years, Aardman Studios have also released other children's films such as Chicken Run, Arthur Christmas and The Pirates.
a113 animation Behind the scenes at Aardman Studios in Bristol a113 animation
6. "Oo aar"
One of the most distinctive and well-known things about Bristol is its regional dialect. The unmistakeable accent is often described as a "burr" – or dubbed by outsiders as "farmer speech". If you can't quite remember the classic Brizzle accent, think of the tongue-in-cheek comedy band The Wurzels. They hail from nearby Bristol in Somerset and describe themselves as "Scrumpy and Western".
WiggyVideos4
7. The Clifton Suspension Bridge
The Clifton Suspension Bridge, which opened in 1864 and was designed by Isambard Kingdom Brunel, spans the Avon Gorge and the River Avon. It links Clifton in Bristol to Leigh Woods in North Somerset. It is 412 metres in length, spans 214 metres, is 9.4 metres wide and it's 75 metres above high water level.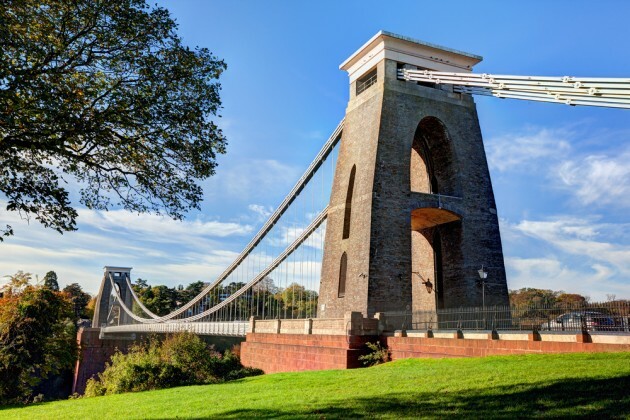 Shutterstock Shutterstock
Want to discover all the unique, fun things Bristol has to offer? Your Banksy walking tour or Portishead gig are now simpler to access than ever before. Fly fast, easy and direct to Bristol with Aer Lingus Regional.