EACH WEEK, WE'LL be taking a peek into some of our faves' makeup bags to see their must-have products, because we're nosey. This week, it's the turn of blogger Avril McDonnell (A Paler Shade Of Beauty). Avril started blogging while battling chronic Lyme Disease. You can read more on her blog here.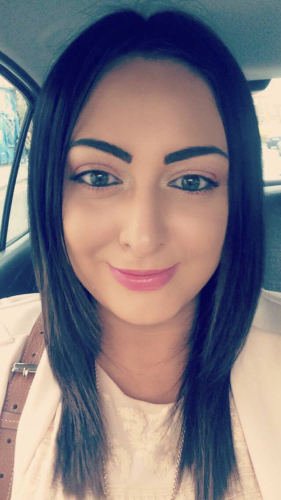 Her earliest makeup memories
"I was first introduced into the wonderful world of makeup at an early age. I was an Irish dancer from the ages of 4 until 16. It was during competitive meet-ups that I observed other girls wearing fake tan on their legs and makeup on their faces.
Even though we were all around 8/9 years old, it was evident that we were all in competition with each other even down to the way we presented ourselves.
"My Mam was quite against the whole makeup idea but did mix in some fake tan with moisturising cream and lightly applied it to my legs so I didn't feel so left out.
"As I was a very determined youngster and feeling peer pressured, my Mam finally gave in and let me wear a little bronzer on my face (that she applied) and a sheer pink lipgloss/lip balm. This was only at dancing competitions and not allowed on a daily basis. This sufficed until the teenage years came rolling in where I developed a longing for black eyeliner, mascara and a concealer stick – yes, I thought I was only gorgeous!
"I experimented quite a bit with makeup over the course of my teenage years and even went as far as using it as a safety blanket. I made a lot of makeup mistakes during this time from using the wrong shade of foundation, applying far too much of it, masking my big lips with concealer and using the same shade of eyeshadow (looking at you, MAC eyeshadow in the shade 'Shale'.
"Luckily as time went on, I developed a healthier relationship with makeup. Instead of applying it to hide my features, I've since learnt how to complement my features. One of the joys of blogging about all things beauty is that I get to try out a lot of cosmetics. This is the adult equivalent of feeling like a kid in a candy store. My signature look would be a pinky/coral lip, a slightly smokey eye (not too over-the-top), lashings of black mascara as I just can't do false lashes, a medium coverage foundation and a defined brow.
"I'm no makeup artist and am pretty much self taught so I wouldn't be the bravest when it comes to experimenting with bold looks but I do try to put my own stamp on things."
Her makeup bag and what's inside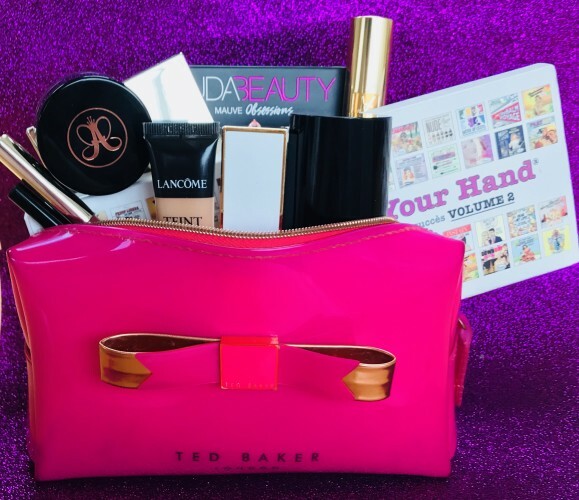 I adore everything about the Armani Luminous Silk Foundation. It applies beautifully, is buildable, is not heavy on the skin and most importantly stays in place all day. It is pricey but a little bit goes a long way.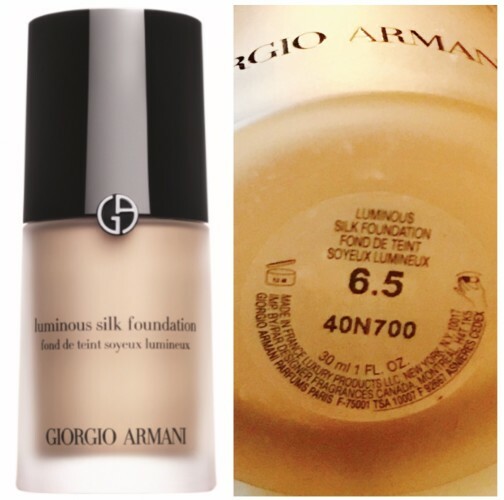 Armani Lumious Silk foundation in '6.5'
"I've tried many a lipstick over the years but the Tom Ford Lip Colour Sheer in 'Paradiso' is just me in lipstick form. My hubby bought me one for Christmas two years ago to my absolute shock and now I 'drop hints' for one on special occasions such as my birthday. It's so expensive so it's nice to receive one as a gift. The shade itself really suits my complexion and it really cheers me up when I wear it. It's a mixture between a coral and a pink and feels really luxurious on the lips.
Tom Ford lipstick in 'Paradiso'
"I first bought the Yves Saint Laurent Luxurious Mascara for False Lash Effect  a few years ago and completely fell in love with it. I have tried many a mascara since but in my opinion, nothing stands up against it. As I can't wear/tolerate false lashes, I find this mascara really gives me the effect of luscious looking lashes. It also doesn't clump on my lashes or smudge easily.
"The Huda Beauty Mauve Obsessions eyeshadow palette  is a very new addition to my makeup bag. I have quite a few eyeshadow palettes to get through, so I have stopped myself buying any more until I get through what I have. Having said that, I've been eyeing up the Huda shadows for a while. I normally go for the same brown/golden colours, but this palette has more of a rosey/pink tinge to it. Even though the eyeshadow pans are small, they have great pigmentation and are long-wearing.  
L-R: HudaBeauty 'Mauve Obsessions' eyeshadow palette, Clarins blush, Clarins lipliner in 'Roseberry', Anastasia Beverly Hills Brow Wiz
"When I have time I tend to apply the Anastasia Beverly Hills Dipbrow Pomade but if I'm in a rush I favour the Brow Wiz as it's extremely convenient to use. The Brow Wiz is composed of a retractable eyebrow pencil with a fine tip on one end and a spoolie on the other. It is a handy little product to have in your makeup bag.
"It's embarrassing to admit this but I have a little pot of dipbrow pomade for well over a year now. (Don't worry I clean the surface layer with rubbing alcohol every few months to kill any nasties). I take a small amount of product from the pot using a brow brush and apply some to each eyebrow to help define their shape. I think having a well shaped brow can really help define the face. The shade 'Chocolate' is a great colour for those with dark hair and its consistency is really easy to work with. It also comes in a vast array of shades to suit all complexions. Once applied it should not budge for the entire day.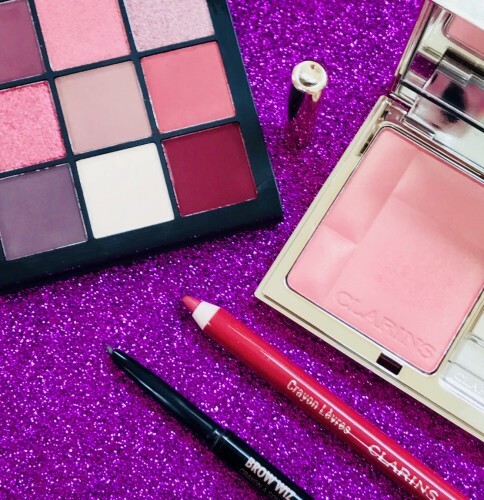 As above
"I only started experimenting with Clarins makeup in 2017 after being a fan of their skincare range for the past number of years. I fell in love with the Clarins Blush Prodige in 'Golden Pink' as soon as I swatched it. It provides a nice subtle warmth to the cheeks and is housed in the prettiest of packaging.
"Being the tender age of 33 not only brings wisdom (I hope) but also lovely expression lines and pigmentation issues to the facial area. The need for a good concealer is strong. I was really impressed with this buildable Teint Idole concealer by Lancôme that I incorporated it into my makeup routine. The liquid consistency means it doesn't sit on the skin but instead absorbs in nicely whilst also creating good camouflage. It also deflects light which helps mask dark undereye circles. I also find it good for dabbing on to spots or areas of pigmentation.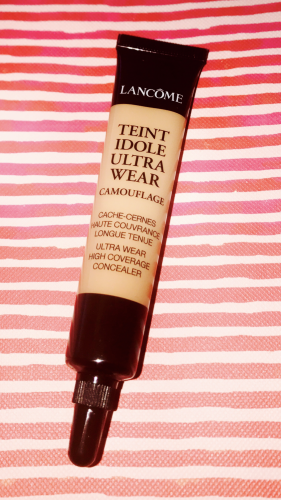 Lancome Teint Idole Ultra Wear Camouflage concealer
"It's only in recent years that I have started applying lipliner to prevent my lipstick from bleeding. I also have a smaller top lip than bottom lip so it's handy in defining the top lip. I find applying lip liner also helps my lipstick last longer. The Clarins lip liner in 'Roseberry' is a great neutral colour if you tend to favour wearing pink and coral coloured lippies.  
"The Balm 'In The Balm Of Your Hand' Vol. 2  is one of the most amazing all in one facial palettes that I have ever seen. It contains four eyeshadows, three blushers, a bronzer and a highlighter. I own two of these palettes and have used my first one to death so it's time to crack open the new one. I love the fact that everything I could need is on one palette well apart from foundation and lippy but you know what I mean. It's such a good all rounder and even houses the coveted Mary-Lou manizer.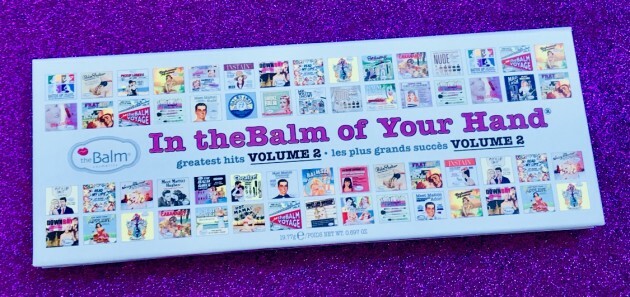 The Balm 'In The Balm Of Your Hand' Vol. 2 palette
DailyEdge is on Instagram!