Welcome to Skin Deep with Louise McSharry, my opportunity to put years of obsessing over beauty products and techniques to good use. I won't tell you something is good if it's not. I won't recommend products I haven't actually tried. As the magical sitar in Moulin Rouge said, I only speak the truth.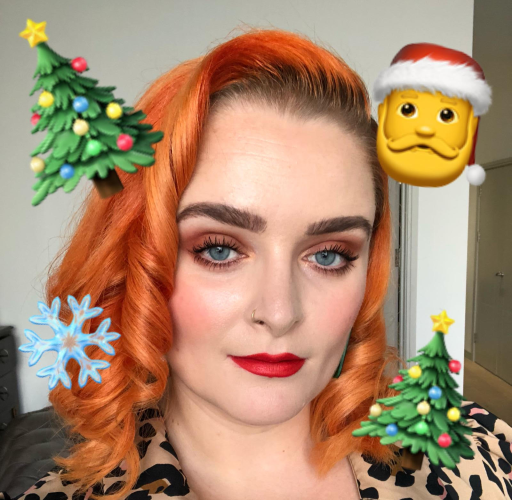 I realise that it was literally Halloween yesterday, but lads, we need to talk about Christmas. I'm sorry.
I know that some of you will feel it's too soon, but the fact is that Christmas means advent calendars, advent calendars mean beauty miniatures, and beauty miniatures mean happiness. Seriously though, beauty advent calendars are big business these days, and if you want a good one you have to move quickly. There are some I wanted to recommend which are already sold out (hello Elemis), and others go on sale this weekend, so now is the time. There is not a moment to spare!
These calendars don't come cheap, but are a great opportunity to try lots of new products without a big commitment. Also, it's really fun to have a new treat every day in December! You deserve it!
That said, what's the story with this year's offerings? Which ones are worth your hard earned money? (Calendars listed with UK prices available via UK only, but ship to Ireland.)
Net-a-Porter (£150)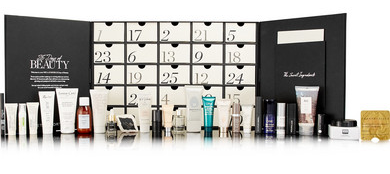 This guy comes with a hefty price tag, but the brands included are absolutely dreamy. Sunday Riley, le Labo, Marc Jacobs, Charlotte Tilbury and Oribe are just some of those included. You know, the stuff you read about and wish you could afford to try. The products aren't just the stuff the brand can't sell either, they're things you actually want. If you can manage the price tag, this is a great buy.
ASOS (€76.04)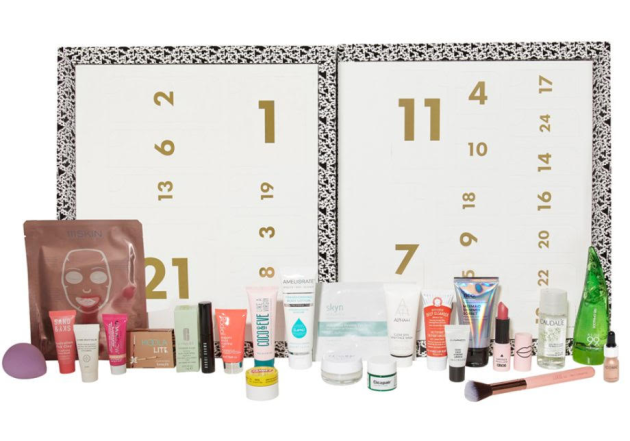 This offering is a lot more friendly on the wallet, but still includes brands you know and love. Benefit, Clinique and Caudelie are included, as well as some of the buzz-y products of the year, like Sand & Sky (you know, that mask Instagram won't stop telling you about). If you want the buzz of treats you'll actually use, but don't want to break the bank, this is a great choice.
Liberty London (£195)
For years I was too scared to walk through the doors of this super glam department store. The building itself was just too beautiful for the likes of me. It's no surprise that their advent calendar is also a thing of beauty, depicting the store itself.
The products included range from well-established brands like Bobbi Brown and Eve Lom to newer brands like Lixir, with an overall value of £600. This is fairly heavy on skincare, although it does include some luxury scent (from Le Labo) and a Diptyque candle! This is my favourite of the lot, and while it's sold out online, it's still available in store. Have a pal in London coming home soon? Get them on it! 
Glossybox (€112)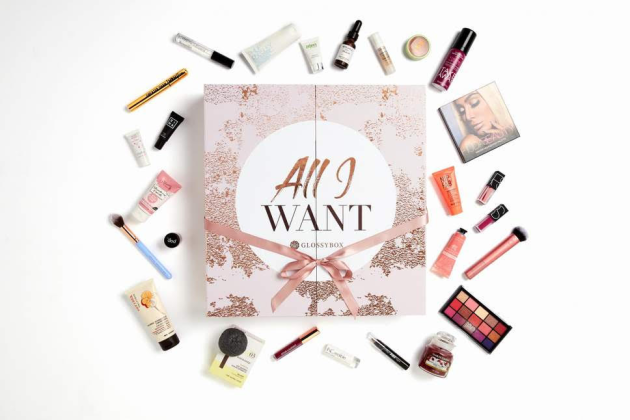 Glossybox make a living out of putting together packages of beauty products, so it makes sense that their advent calendar would be decent.
The box itself is cute, and includes lots of little boxes ready for you to open. Most of the products are full-size and include a Nars Velvet Lip Glide, a Fat Eye Stick from Eyeko and the Huda Beauty Winter Solstice palette, among other things. Not bad for the price!
Marks and Spencer( €40 when you spend €40 in store on home, clothing, or beauty)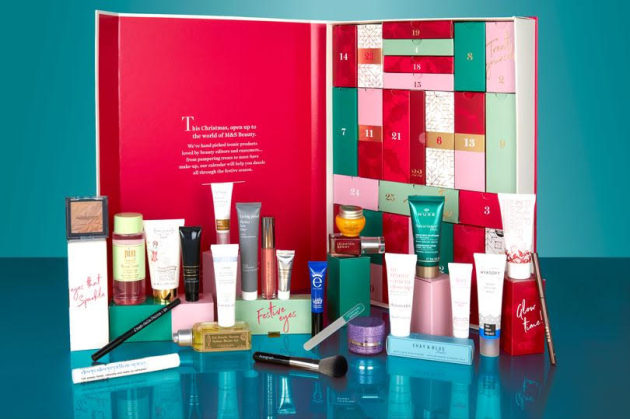 When it comes to value for money, it's really hard to beat the M&S beauty calendar. The brand's beauty hall has become many a shopper's happy place due to the excellent range of product available, often from brands not available elsewhere.
The advent calendar reflects that, and includes product from Nuxe, Eyeko, Phillip Kinglsey, Stila and l'Occitane. This calendar is a great way to discover products you may want to repurchase after the Christmas period, and for €35, you can't really go wrong.
The Body Shop (€80-180)
We're all familiar with the range of product from The Body Shop. They produce consistently good products, and of course, are pioneers of the cruelty-free and vegetarian cosmetics movement. They have three options on offer, ranging in price from eighty to one hundred and eighty euro which include a range of their cosmetics, accessories and classic shower gels etc. If you're someone who only likes one or two scents, these aren't for you, but if you like lots of different shower experiences, then you'll love them.
The different prices largely reflect the number of minis versus full size products, and each calendar includes a daily challenge to help you 'reconnect with nature'. Sure what else would you be at?
Space NK (£250)  
This is another super luxe one along the lines of Net-a-Porter and Liberty's offerings. It's pricey, but gives you an opportunity to try high end products. Kevin Aucoin, Hourglass, Ouai, Tata Harper and lots of other big name brands are included in the jewel toned box of treats.
It has an overall value of £600, which is the same as the Liberty London calendar, but the asking price is more than fifty pounds extra. I guess it depends on which list of brands appeals more, but for me the Liberty option gives you the same opportunity for luxury for significantly less cash.
Charlotte Tilbury (€185)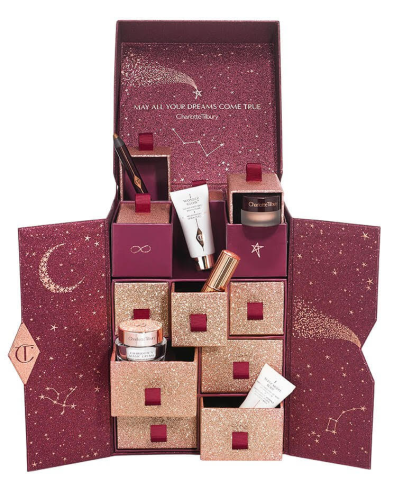 Clearly, as I've written above, advent beauty calendars are a great opportunity to try lots of different brands, but if you're a fan of one in particular, it can also be a chance to get to grips with a full range.
The Charlotte Tilbury offering isn't cheap and only offers twelve products rather than the usual twenty-four or twenty-five, but what it includes is great. Full size products include winners like the almost universally appealing Pillow Talk lipstick and Colour Chameleon pencil in Amber Haze, and the minis include a decent amount of the very expensive Magic Cream and the beautiful Wonder Glow. I don't think this one is the absolute best value for money, but I do think that every product included is excellent and will be used.
Nars (€150)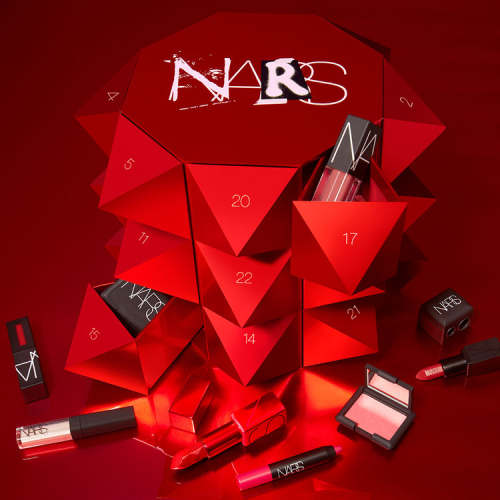 Much like the Charlotte Tilbury calendar, if you're a fan of Nars (as I am), you'll use every item included in this sexy box. Filled mostly with minis, the products include a fantastic range of the brand's lip products as well as radiant creamy concealer, blushes and tools. The colour selection is excellent, and the standard of product is high.
Clarinsmen (£60)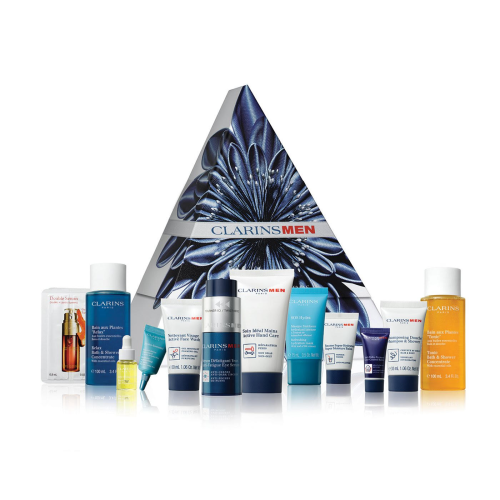 If you're a guy, or know a guy, who wants to get involve in the beauty advent business, there are much fewer options targeted specifically at you. (Although obviously you can get onboard with literally any of the other ones on this list depending on what you're into because YOU DO YOU, BABES). This guy, from ClarinsMen, though, includes product specifically designed with you in mind. It's a twelve day calendar, with star products like the truly excellent Double Serum and Blue Orchid Oil. A delightful treat.
Sleek (€45)
If you want to get in on the advent action but don't want to fork out a massive amount, you could do worse than the Sleek advent calendar. Sleek is a generally solid budget brand, with eyeshadows in particular which bat above their average. This calendar includes three eyeshadow palettes, as well as eye and lip pencils, mascara and several nail varnishes.
Aldi (€49.99)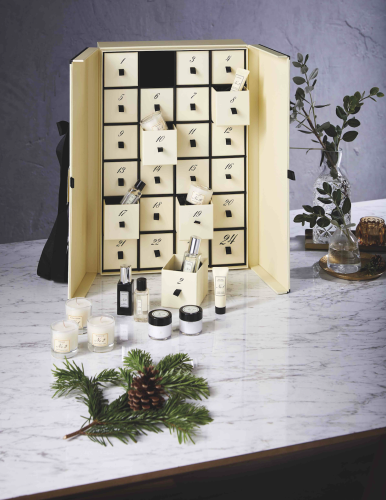 For the first time this year, Aldi is getting onboard the advent train, with a beautifully packaged (if somewhat familiar) box of the brand's popular scents, creams and candles. I would have liked to see more full-sized products included (all are minis), but the products themselves are lovely, and this is a more budget-friendly way to treat yourself in December.
New Product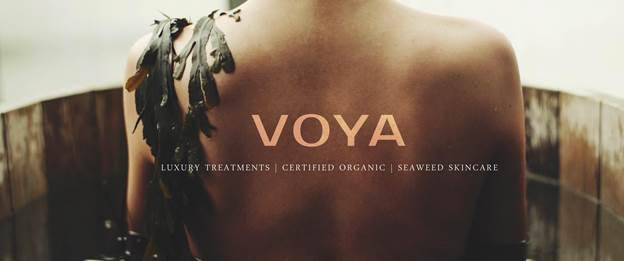 VOYA are responsible for some of Ireland's glammest spa treatments, and produce some exquisite products. Now, they've launched a range of spa treatments created specifically with cancer patients in mind. You may not know this, but if you are someone experiencing cancer, lots of spa treatments are not on offer to you. It's really disappointing to find that when you tick the cancer box on your form, the list of options cuts in half (I know from experience). This new initiative ensures that therapists are trained to take the best care of people experiencing cancer, and ensuring they have excellent options when they attend for a treat. VOYA TENDER TIDES Cancer Care Therapy Treatments are available at spas at The Ice House in Mayo, The Silver Tassie in Ramelton in Donegal, The Imperial Hotel in Cork, The Connemara Sands in Ballyconneely in Galway, The Four Seasons in Louth and at Beauty Within in Portadown, County Armagh.
Want to get a notification every week when Skin Deep is published? Of course you do! Just send us a WhatsApp saying 'Skin Deep' to 083 8120901, and add our number to your contacts as DailyEdge. (If you don't add us, we can't message you :( ) We'll never spam you or share your personal details with anyone, and you can unsubscribe at any time.
DailyEdge is on Instagram!