GROWING UP AS a teenage girl, and looking at the front pages of newspapers and covers of magazines, it's hard not to feel that the only way to succeed in life as a woman is to win the beauty genetic lottery.
And then become a singer, actress or be on TV.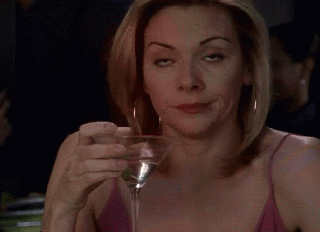 HBO HBO
So when Vogue unveiled their May cover star as Amal Clooney, an International Human Rights Lawyer and activist who has just turned 40 it created a little spark of joy!
Vogue by ANNIE LEIBOVITZ Vogue by ANNIE LEIBOVITZ
It's lovely to think of a girls seeing the cover and getting a more diverse representation of what a successful woman looks like, particularly in light of a poll released this week by Yougov.
In an interview with 37,000 people complied from 35 countries, the YouGov poll of 'World's Most Admired' made for slightly depressing reading for women. Entertainers dominate the female top twenty, with 14 of the most admired women being actresses, singers or TV presenters, industries where beauty, something you are born with, is a huge asset.
Source: Yougov.co.uk
In comparison, the list of most admired men contains more people from political, business and sporting backgrounds, industries where talent and hard work create success and where the sharpness of your cheekbones holds zero weight.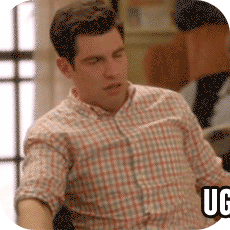 Fox / NewGirl Fox / NewGirl / NewGirl
Nothing in itself wrong with this, but it's great to give girls some role models of success who are celebrated in industries that aren't based off of their looks.
*Enter stage left, Amal*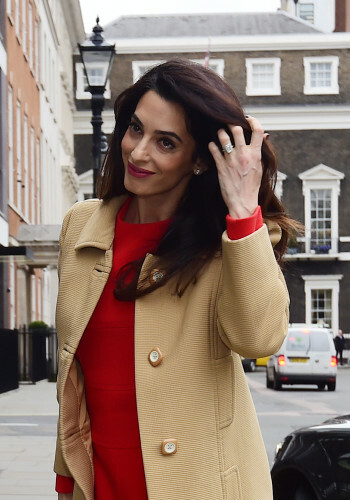 PA Archive / PA Images PA Archive / PA Images / PA Images
The Vogue interview is a refreshing piece that gives insight into an intelligent and articulate woman who is at the top of her field, and has interests outside of the working world.
Amal Clooney is candid about the doubts she has in her own career, despite being an Oxford Law graduate.
I remember all the stages in my career where I almost didn't have enough confidence to try for something, almost didn't have the guts to follow something I was excited about doing, because I didn't know anyone else who'd done it or other people made me question it.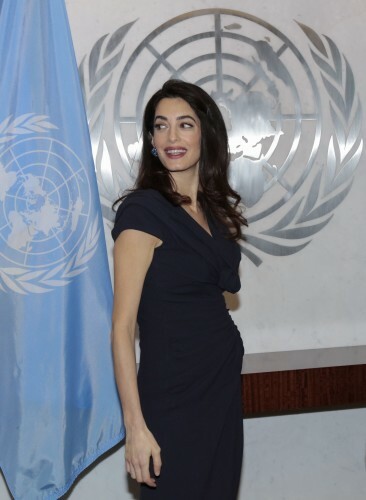 DPA / PA Images DPA / PA Images / PA Images
Amal is informed on many issues, offering articulate and thoughtful views on gun violence in the US....
I've seen lots of commentary where people have tried to say, 'This isn't about having too many guns or allowing semiautomatic and automatic weapons to be purchased too easily — surely this is about mental health, or about violence and movies.
 The fact is, there are violent movies all over the world, and there are mental health issues in other countries. But this doesn't happen in other developed countries. The difference is guns, and how widely and easily available they are.
...as well as offering some heartwarming words on the #MeToo movment:
I think because of the brave women who have come forward to tell their stories, the future workplace will be safer for my daughter than it was for people of my generation. We're in a situation where a predator feels less safe and a professional woman feels more safe, and that's where we need to be
On meeting George Clooney and falling in love, she had some interesting words to share:
It felt like the most natural thing in the world. Before that experience, I always hoped there could be love that was overwhelming and didn't require any weighing or decision-making.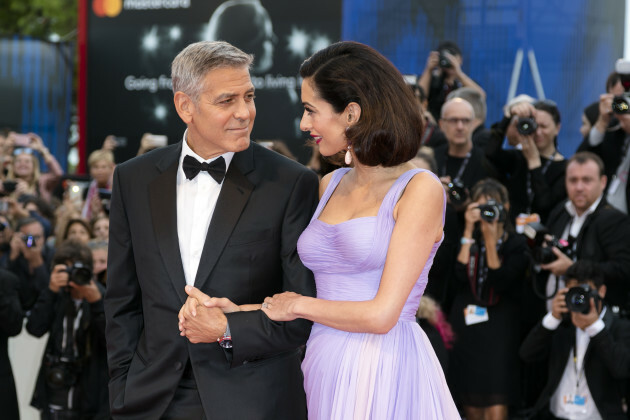 DPA / PA Images DPA / PA Images / PA Images
She continues, explaining her own awareness of the happiness that love can bring but her unwillingness to settle.
It's the one thing in life that I think is the biggest determinant of happiness, and it's the thing you have the least control over. Are you going to meet this person?
 I was 35 when I met him. It wasn't obvious that it was going to happen for me. And I wasn't willing or excited about the idea of getting married or having a family in the absence of that.
Although she's become well known for the beautiful and quirky clothes she wears, what is invigorating about Amal is that you get a sense that her sense of style has been developed to make herself happy. Not because she wants to look sexy and impress a man.
She's set to co-host the Met Gala next month, and had this to say on fashion being a part of her life:
 I hate the idea that you somehow, as a human being, have to be put in a box. There's no reason why lawyers can't be fun—or actresses can't be serious.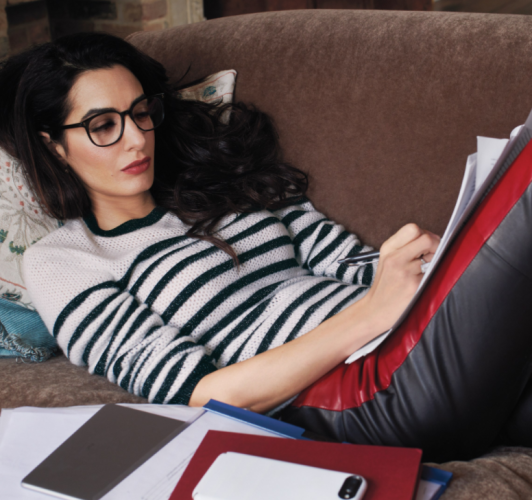 ANNIE LEIBOVITZ for Vogue ANNIE LEIBOVITZ for Vogue
Of course, we recognize the irony that she garnered fame because of who she got married to. But in fairness to Vogue, they really highlighted her career and her activism, over her marraige to George or her growing role as a regular on best-dressed lists.
The jokes about her only being famous because of George were apparent from the beginning of their relationship, and shows that everyone is aware of the irony:
At the Golden Globes in 2015, Tina Fey addressed the absurdity of Amal only becoming well known when she became engaged to George Clooney, by saying:
Amal is a human rights lawyer who worked on the Enron case, was an adviser to Kofi Annan regarding Syria, and was selected for a three-person U.N. commission. So tonight her husband is getting a lifetime-achievement award.
In fairness to George, he was the one who gave the heartiest laugh.
DailyEdge is on Instagram!