AMY HUBERMAN IS pretty great on social media, it has to be said.
The actress was stuck inside looking at bread memes like the rest of us all weekend, and tweeted this joke on Saturday night.
The good folks at Hairy Baby immediately sniffed out a business opportunity, and got all up in her mentions offering to make the t-shirt a reality.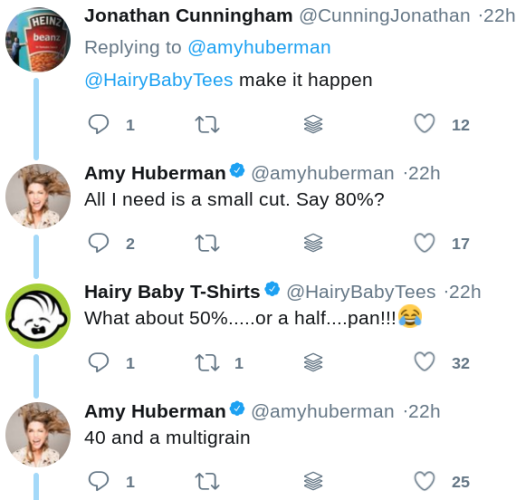 Well, it happened
It's the perfect Paddy's Day t-shirt, and what a quick turnover!
They're on sale for €25 for adults and €16 for kids, and all proceeds will go to Focus Ireland .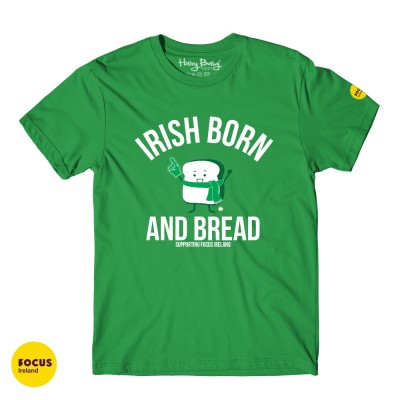 Hairy Baby Hairy Baby
Hairy Baby writes:
When Amy Huberman recently commented on Twitter 'Can someone please start making 'Irish Born And Bread' t-shirts for Paddy's Day', everyone was very quick to suggest we take up the challenge. And shur why not, it's what we do after all.
When Amy herself got in touch to see if we'd like to do it we both agreed it shold be a HairyBaby Chari-Tee. With that in mind the t-shirt was born (and bread) and is now available to purchase as a Limited Edition tee and as a Not For Profit project.
We got in touch with Focus Ireland who were delighted with the association and we've agreed to donate 'all profits' to the charity.
What a lovely idea.
DailyEdge is on Instagram!