DUBLIN-BASED DESIGNER Annie Atkins was part of the team that claimed the Best Production Design Oscar for Grand Budapest Hotel last night.
Wes Anderson's movie took home four Academy Awards, with its highly stylised visual aesthetic recognised in three of them (Best Production Design, Best Costume Design, and Best Makeup and Hair).
Annie Atkins was lead graphic designer on the movie, designing and creating the lavishly detailed props:
20th Century Fox 20th Century Fox
So was she there in her best gúna, after six hours of hair and makeup, chatting to Ryan Seacrest and rueing the loss of the mani-cam?
No, she wasn't. She was hanging in her parents' gaff in Wales.
However, she responded gracefully to all the usual red-carpet questions.
And when the team she was part of claimed the award…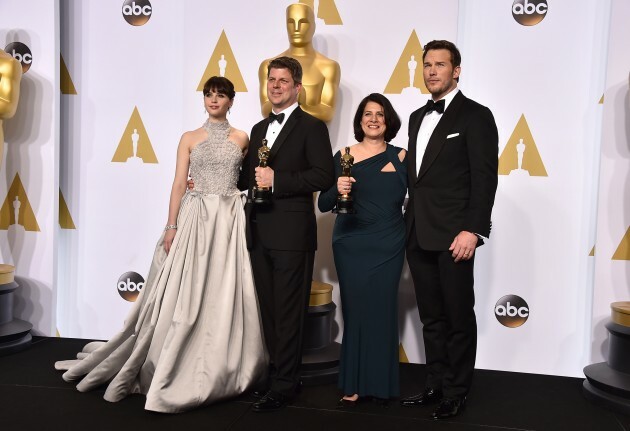 AP / Press Association Images Grand Budapest Hotel designers Adam Stockhausen and Anna Pinnock. With Chris Pratt, Felicity Jones and their new Oscar. AP / Press Association Images / Press Association Images
… her reaction (in public anyway) has been just as down-to-earth.
She said on Twitter that as part of the team she'll actually get a certificate, not a statue. And the perfect place for it?
Atkins - born in Wales to an Irish mother, and now based in Dublin - told DailyEdge.ie in January that she was "thrilled" with the nomination along with the film's entire design department.
"It's like a shiny jewel in our CVs," she said.
She revealed last year that she had kept one example of each graphic prop she made for the movie, before loaning them to Dublin's Lighthouse Cinema for an exhibition.
Asked about getting the call to work with Wes Anderson, she said she remembered "trying really hard to keep it together and sound all professional on the phone." Well, now she's got an Oscar for her troubles.
AP / Press Association Images AP / Press Association Images / Press Association Images
Congratulations Annie!