NOTHING LIKE A birthday or anniversary to make you feel old.
This weekend, Arcade Fire's debut album Funeral turned ten years old.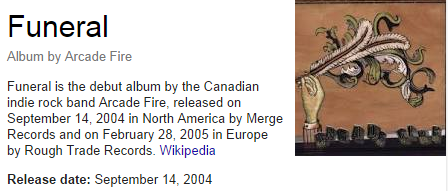 Google Google
10. 
Naturally, this revelation sent people into a tailspin and forced them to contemplate both the passage of time and their rapidly ageing selves.
There was denial.
There was confusion.
There was anxiety.
There was the depressing realisation that we are all now, in fact, old.
And, finally, there were emotions.