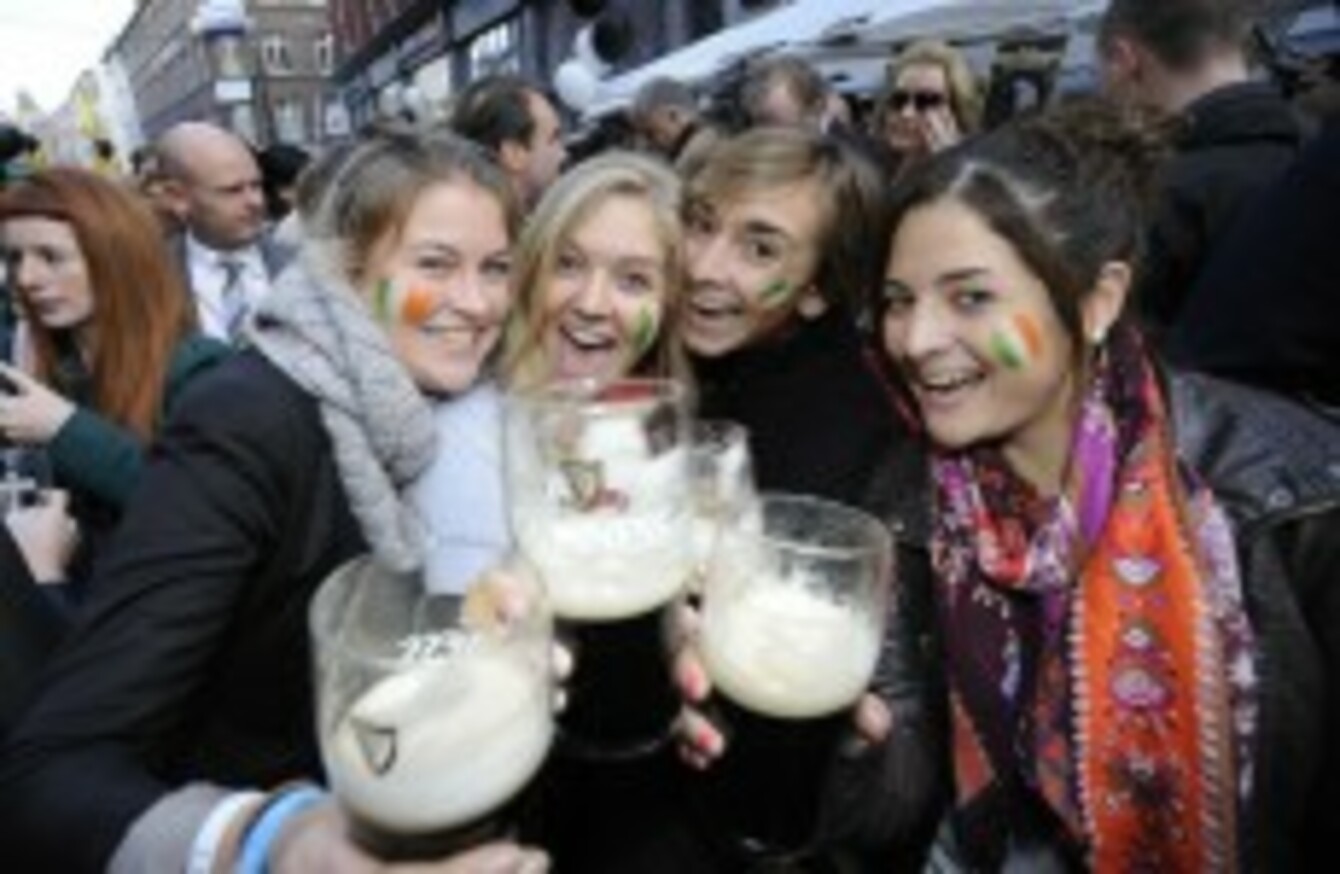 Image: Photocall Ireland
Image: Photocall Ireland
THE ANTI-ARTHUR'S Day sentiment which has been gathering pace over the past few days hasn't gone unnoticed outside Ireland.
News reports and opinion pieces have begun cropping up in some international titles like The Guardian and The New York Times.
Arthur's Day events are taking place across the world this evening, but naturally the focus is on Ireland.
We've rounded up some of the international coverage of the event…
The Guardian
As Arthur's Day approaches on Thursday, the backlash is in full flow: Alex White, the minister of state with responsibility for alcohol and drugs has condemned it as "a pseudo-national holiday" designed simply to market Diageo's products.
Conveniently, Arthur's Day is timed almost exactly six months later [than St. Patrick's Day], and is always held on a Thursday, typically the big student drinking night.
Huffington Post*
"It's really a musical treasure hunt. It's one of my favorite nights of the year," said David Doolan, a 28-year-old software engineer who plans to follow tweeted tipoffs as musical acts turn up in Dublin pubs.
"They shouldn't call it Arthur's Day. They should call it Vomit Day," said Aisling Fitzsimons, a 50-year-old manager of a convenience store who says she has to hose down the sidewalk outside most weekends.
The Telegraph
Arthur's Day is so vile because it was dreamed up by PR folk at Diageo in 2009, but is presented as a longstanding tribute to the Guinness founder.
Diageo has done very well in creating the impression that Guinness and Irish identity are inextricably linked. They are not.
ABC News*
Guinness says it's keeping an open mind on changing Arthur's Day next year to focus less on pubs and pints, and more on the arts, but insists nobody's being forced to drink when watching musical performances.
"There's an alco-holiday happening all the time in Ireland," said Paddy Cullivan, a Dublin musician and satirist. "It's called Friday and Saturday night."
Reuters
According to the Dublin ambulance service, there was a 30 percent increase in call-outs during last year's Arthur's Day compared to the same day a week earlier…
Marketing experts have admired the slickness of Arthur's Day as a promotional campaign, but Diageo has been on the defensive all week, with representatives making regular radio and television appearances to justify the event.
The New York Times
To a growing chorus of critics, it is becoming a national embarrassment.
In many ways, the day has been caught in the cross-fire of an increasingly heated debate about society's relationship with alcohol.
*Both of these articles are syndicated from Associated Press