I DON'T KNOW if it's an age thing or whether everyone is getting more curious about astrology and all things 'fortune telling'.
Yes, while I was never a believer in the infamous quarter-life crisis, in recent months, I'm definitely feeling a sense of unease and doubt that is different to the senses of unease and doubt I had before. 
My list of concerns have morphed from being focused on problems in the present to problems I could face in the future.
No longer do I just stress about paying rent this month, now I worry about the likelihood that I won't be able to afford a mortgage until my mid-life crisis.
This forward-looking and premature stressing has lead me to think about even more intimidating things like fate and what 'it' all means.
Right, pulling myself out of that rabbit hole immediately.
But all of this resulted in many late night's Googling the stars, astrology and ways to help get a one up on the future.
The world of astrology and forms of fortune-telling like tarot card and palm reading is vast and can be incredibly intimidating for those not well-versed in it.
The image in my mind when I think of it is similar to that episode of The Simpsons when Lisa stumbles into a crystal ball reader.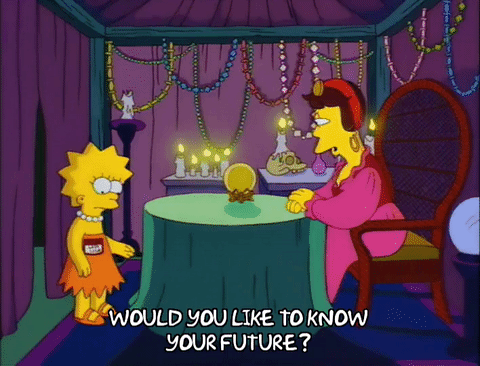 So, in the hopes of understanding it all a bit better and worming my way out of my quarter-life crisis, I reached out to an expert.
On first search, many of the names suggested didn't feel right for me, until I came across Reading The Signs Tarot.
She focuses on a combination of astrology and tarot reading so is the perfect person to provide this beginner's guide. 
We've all heard of our star signs, but we all have multiple signs. Break this down for me.
When we are born there is an individual map of the sky.
Star signs are actually known as 'sun signs'. Therefore we also have moon signs, mercury signs etc. While we possess qualities of our sun sign, we also possess emotional qualities of our moon sign.
If your sun is in scorpio, for example, but your moon is in Aquarius you become a combination of the two. You may have the intensity and privacy of a scorpio, but also the need for group connection of an Aquarius.
All signs are grouped into fire, air, earth and water - what do these mean?
There are 12 signs and four elements.
Scorpio, Pisces and Cancer are all water signs meaning the temperament is emotional and sensitive by nature.
The earth signs - Taurus, Capricorn and Virgo - take on a more practical, sensible temperament.
The fire signs - Sagittarius, Aries and Leo - are by nature more 'fiery' and enthusiastic.  
The air signs - Aquarius, Gemini and Libra - have more intellectual and thoughtful temperaments.
You may feel an intense association with the element. For example, water signs may either love the ocean or have a deep fear of it.
What is a birth chart?
A birth chart is a blueprint of the skies when you were born, right down to the list minute.
It includes the housing positions of each planet, the sign it falls in and the way these planets 'aspect' each other. Each planet rules a different part of your temperament and your lifestyle.
For example your Venus sign often shows how you love and what you look for in a partner. It it then falls in the 7th house it means you strive for harmony in a partnership above all else and seek marriage strongly.
Each sign adds a uniqueness to your personality and indicates various talents as well as challenges you must overcome.
For example if your natal mercury is retrograding at birth you may find it hard to communicate for intense fear of being wrong and may have a tendency to undersell yourself intellectually.
What can our signs tells us about ourselves and our future?
Our birth charts can be used as tools to identify challenges within our personality. It can also show us where our strengths lie.
Birth charts are one hundred percent unique. Even twins are likely to have slightly different charts if they are born minutes apart.
Depending on your views on astrology it can be used as a predictive tool. It can show you when challenging aspects are occurring in the skies and in what area. As such it can protect you from working against the energies negatively and approach them with optimism, but in my opinion you are a creator of your own destiny.
Astrology can assist you but it should not make you feel like you have no options or cannot make a contribution to your own future.
I think many people believe it is all predetermined and therefore they close off from it. What it will show you is what energies are arising, rather than events. You can then channel those energies and work with them how you will because you have choice.
For example many fear having planets in the 8th house because it has been recklessly forecasted as an indicator of death, when really it shows where you have great tenacity and ability to transform and reach great heights in your life.
Astrology should never make you fearful, however it also shouldn't make you feel complacent. Jupiter in the 10th house often indicates fame and fortune but that's not to say you can't lose it all by being complacent and hitting the casino.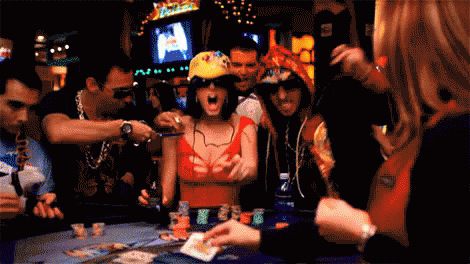 If we share the same signs as someone else in our birth month, how can astrology readings be specific to one person?
Even if we are born the same month as someone we will have quite unique birth charts.
There will be parts of that person we relate to for sure but not completely. Two Scorpios for example may share similar qualities but have very incompatible moon signs and thus may not click at all.
Birth chart readings are specific because they look at the bigger picture, right down to the minute and location you were born. Even horoscopes are difficult at times because planets operate in varying degrees of each sign.
It's all relevant to you personally which is why birth chart readings are good.
There are plenty of free ones online so anybody can get involved, even if they don't quite understand the terminology.
How does astrology relate to tarot, palm reading and other forms of 'fortune telling'?
Tarot represents the 'fool's journey'. It tells of the human experience and journey through life as we know it.
Astrology is prevalent in every tarot deck. For example the hermit tarot card often represents the sign of Virgo. However, a lot of people read the tarot without any reference to astrology or the current astrological currents at all. I personally combine the two and interweave them. When the moon tarot card pops up just before a full moon it is an indicator that the full moon may reveal something significant for you, or there may be something you are hiding that needs to be talked about.
'Fortune Telling' isn't a term I would be fond of.
Tarot is a tool to help you tune into your subconscious and pull out information. I am a big believer in the law of attraction, that your thoughts have a big part in shaping your destiny. Therefore if you pull a 'scary' card such as death or the ten of swords, rather than fear a traumatic event occurring - it is better to accept that something has to change or be rebuilt in order to be successful.
It can reflect something in your life that is not working for you that is holding you back. Every 'scary' card is there to teach you something.
Tarot cards, like astrology help you tune into what's going on with you and help you figure out an answer. They are full of beautiful advice.
For example the star card is often seen in tarot as a harbinger of hope. They are in some ways predictive but they also tell you what way you are steering yourself.
If you are in an incredibly negative frame of mind for example, you may see scary cards and realise that you need to change things in order to create a better future for yourself. If you draw a card like the devil, it may mean you have a vice in life that is holding you back.
Your future is not set in stone as long as you have the ability to change your mind, but tarot cards certainly seem to uplift people and inspire. They give comfort too as they are objective and meditative. That's why people like them so much.
How do you find the right 'fortune teller' for you?
It depends what you are looking for really.
If you want a purely astrological reading done there are so many wonderful astrologers online to choose from. The beauty of YouTube is that it is all accessible and a lot of the time the horoscopes are totally free.
If you want a private tarot reading done it is good to watch tarot readers on YouTube who do horoscopes because if a reading resonates very strongly with you, you may find that person has the style of reading that you like. It's kind of like window shopping. Plus you can see reviews for that person and see how credible they are a lot of the time.
It's important to remember that the person you choose is not able to see your whole future because that hasn't been created yet. A good reader or astrologer will empower you to make the best of your chart and your own energies, as well as what is coming up in the sky. They should never make you feel like you need them to make your decisions or leave you feeling fearful and powerless.
You create your own destiny, these are only tools.
DailyEdge is on Instagram!