ON MONDAY NIGHT, Alfonso Ribeiro (better known to you and I as Carlton Banks) posted a photo of an impromptu Fresh Prince of Bel-Air reunion.
"Always amazing to spend an afternoon with my Fresh Prince family," he wrote. "Wishing that James Avery was still with us to make this complete." (The late James Avery played Uncle Phil in the sitcom.)
One notable absence from the group photo? That would be Aunt Vivian. The original Aunt Vivian, that is.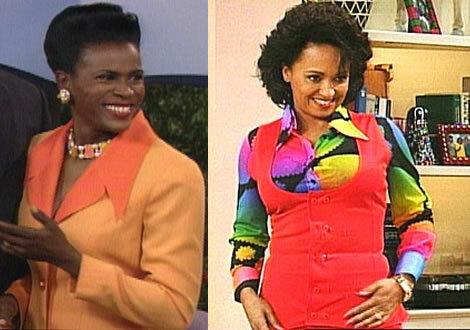 Reddit Reddit
A bit of background. Janet Hubert played Aunt Vivian on seasons 1-3 of The Fresh Prince of Bel-Air. She was fired and recast amid reports of a feud with the network and with her co-star Will Smith.
There was no love lost between Smith and Hubert with Smith telling an Atlanta radio station at the time, "I can say straight up that Janet Hubert wanted the show to be The Aunt Viv of Bel Air Show because I know she is going to dog me in the press."
She has basically gone from a quarter of a million dollars a year to nothing. She's mad now but she's been mad all along. She said once, 'I've been in the business for 10 years and this snotty-nosed punk comes along and gets a show.' No matter what to her I'm just the antichrist.
Hubert later accused Smith of being responsible for her firing.
He has gotten me fired from the show and now he is trying to snatch my career away from me. I have not slandered him in any way. Anyone who stands up to Mr. Smith on Fresh Prince is gone. I reprimanded him constantly for being rude to people and locking himself up in his room.
Many years later, Hubert labelled Smith an "asshole" and an "egomaniac". She also alleged that she had reprimanded Smith for telling racially charged jokes.
I was a dark-skinned, African-American mother, and Will used to tell the you're-so-black jokes to the audience before the show, and at one point, I came out and stopped him, and the audience went 'Woooo'. He didn't understand how unbelievably disrespectful that was to women like me… 'Yo mama's so black, when she looks at her shoes, she thinks she's looking in the mirror. Ha, ha!'"
Alfonso Ribeiro referenced her departure during an appearance at a college in 2009 and said, "The bitch was crazy."
Like we said – they're not buddies.
So naturally she weighed in on this reunion photo, calling Ribeiro an "ass wipe for Will" and dismissing any possibility of a reunion.
*eyes emoji*
I know the media hoe Alphonso Ribero has posted his so called reunion photo. Folks keep telling me about it. He was always the ass wipe for Will. There will never be a true reunion of the Fresh Prince. I have no interest in seeing any of these people on that kind of level.
I am not offended in the least, by this photo… it was an event for Karen's charity. It does however prompt me to take some meetings in Hollywood to pitch my memoir PERFECTION IS NOT A SITCOM MOM, and tell of the behind the scenes story before I leave this earth.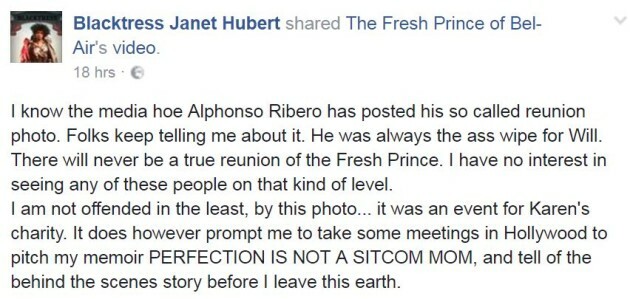 Facebook Facebook
For what it's worth, Will Smith described Hubert as "brilliant" in an interview last year.
She's brilliant… as an artist. She sings, she dances. She's, like, a really powerful artist. So I loved what she brought to The Fresh Prince.
Unfortunately, it looks as though this is one television feud that will never be resolved.
DailyEdge is on Snapchat! Tap the button below to add!