GREAT, SO THE royal baby has finally arrived after a long 9 month wait, for everyone. It was the 'people's pregnancy' after all.
But hey, what do we care? Let Britain have their moment, it's just really annoying to have to hear about it in never-ending social media streams.
If you're not one of the thousands prepared to swarm the palace for a glimpse or wait thanklessly outside of the hospital, chances are you're just not that interested. The Daily Edge is here to help you get the blinders on.
Imagine it, an internet free of all royal baby mentions. Here are few tools that may help.
For your browser
Plugins are your friend here. For Chrome, there is tinyFilter, used to block dodgy websites. If you enter in a term you want Chrome to disable, if it is dedected on a website you're about to view, it will throw up this error message:
This might slim your web movement down a lot. But hey, sacrifices have to be made.
World Filter takes the specific word only and changes it to something you may find slightly more pleasant. A simple play with this: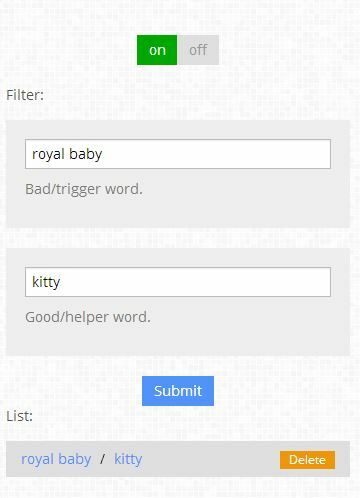 Leaves you with this:
Or how about the specially formulated Royal Baby Blocker? It's not quite as effective as a manual blockage, but when it works, it's wondrous.
If you're a Firefox user, FoxReplace will do the same job.
For Twitter
If avoiding Twitter is absolutely out of the question, Tweetdeck filters are your answer. The Twitter application can be downloaded, used as a Chrome extension or a web app. Besides an array of features, we have the option to filter out sources (Sky News), people (Clarence House) or certain terms. A few we would recommend are royal, baby, William, Kate, Queen, Duchess, Duke, prince, Charlie, Camilla, palace–you get the picture.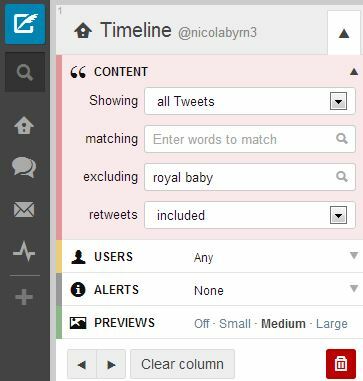 Muting users ensures that you'll never be bothered by them again. Ahhh.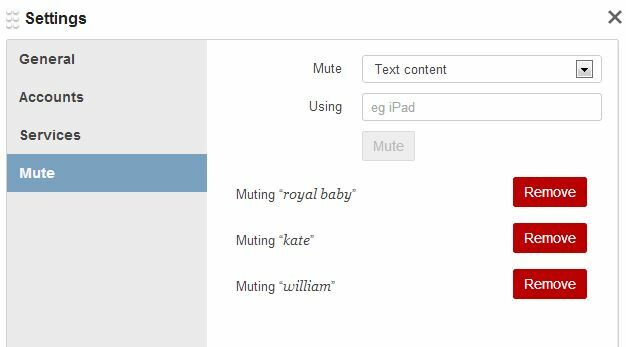 Another option is Twivo, an extension created for avoiding television spoilers. When installed, it gives you the option to hit 'record' on anything you want to save for later (or hastily abolish from your immediate life).

Anyone in your timeline who dares mention 'royal baby' is immediately grayed out in shame.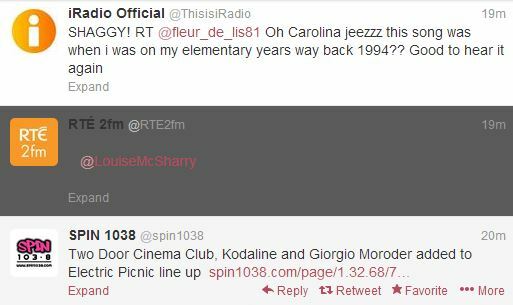 The Larry filter is also available in both Firefox and Chrome to block words or specific hashtags, or just turn down the volume a bit.
Facebook
While it's not quite as straight-forward as Twitter, chrome plugins can slap a plaster on the wounds. Unbaby.me is a great extension that was made to turn your friends' baby pictures into things that actually interest or amuse you. First, you create your blacklist with the likes of Royal Baby, baby, Kate, William, Duchess etc, and then choose an instagram tag or feed with which to replace the images. So
becomes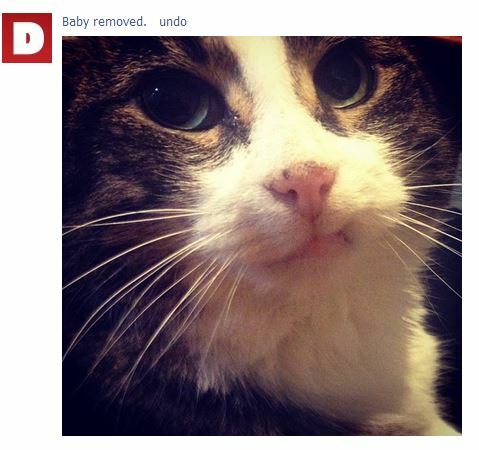 N'daww.
On the same lines, Social Fixer is a whole tool-kit to abolish your Facebook feed of anything you're trying to avoid.
Newspapers
If you're looking for a British news source but are seething at the thought of another voxpop by the hospital, The Guardian have introduced a button on their website that will let you toggle between Republican or Royalist views. If you chose Republican, any stories mentioning the monarchy are immediately removed from view. But what is left to complain about then?
Outdoors
Close your eyes, stop communicating with people. If you don't hear something about the royal baby, you'll hear someone complaining about hearing about the royal baby.
So there you have it, turn down the volume on the royal baby frenzy for the next few days. Of course, these options certainly aren't foolproof, but they might prevent a royal breakdown–or at least save us having to listen to you.