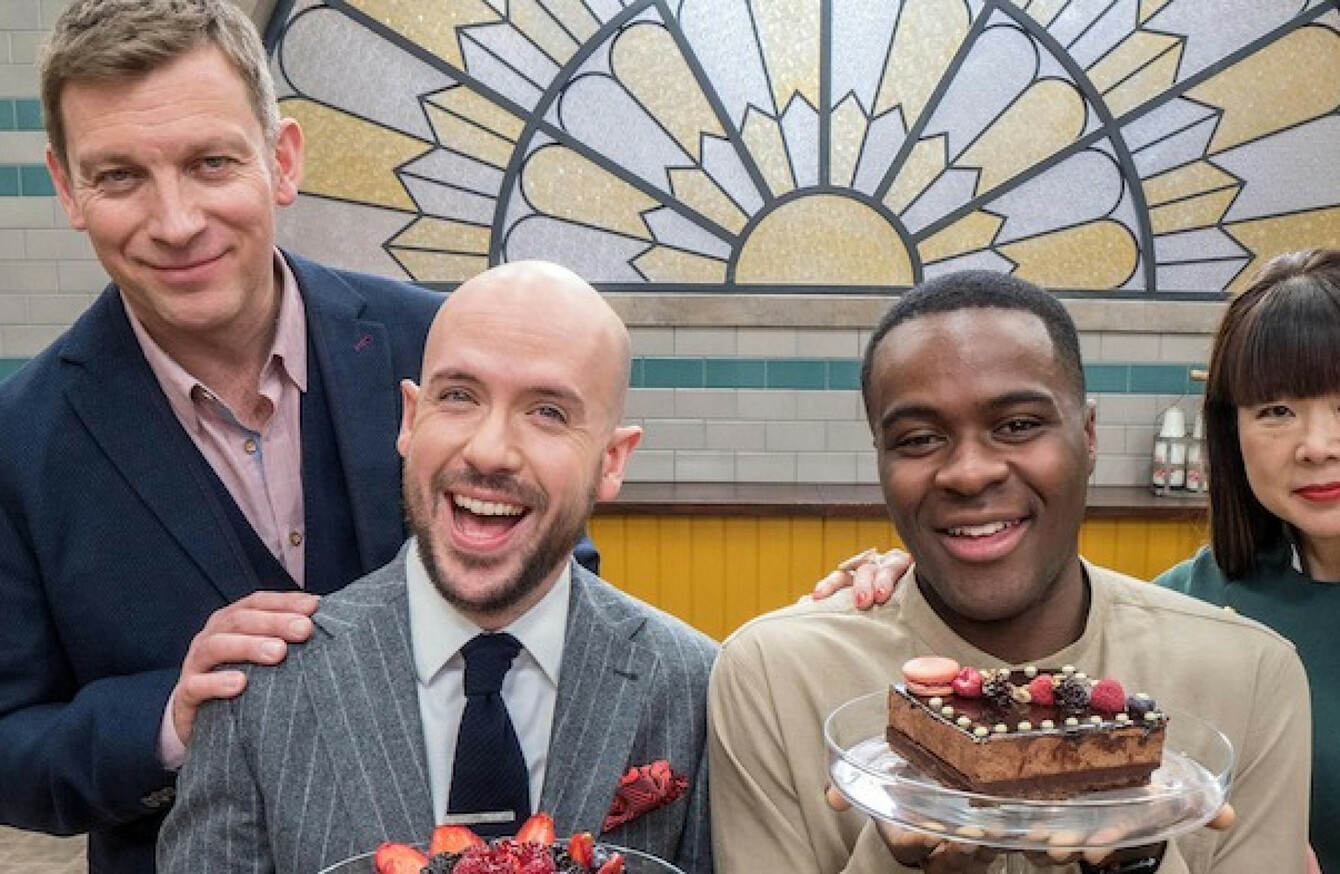 DailyEdge.ie rounds up the TV shows that you'll be tweeting about tonight and talking about tomorrow.
Bake-Off: The Professionals (Channel 4, 8.00pm)
New series. Channel 4′s answer to Creme de la Creme, professional duos from across the UK go head to head, aiming to impress judges and celebrated pastry chefs Cherish Finden and Benoit Blin, and progress to the next round. In the first episode, the teams must finely craft two batches of uniform miniature classics – 24 conversations and 24 tartes aux fruits – in just three and a half hours. This is followed by the Showpiece, in which a reinvention of the Black Forest gateau is required in five hours. Presented by former Bake Off contestant Liam Charles and comedian Tom Allen.
The Great House Revival (RTÉ One, 9.30pm)
New series. Hugh Wallace meets people transforming derelict properties into modern home, beginning with an Australian cabinet maker restoring a Co Mayo house with 110 rooms. Can you IMAGINE the aftersesh?
There's Something About Mary (Comedy Central, 9.00pm)
A lovelorn man hires a sleazy private eye to track down his high-school sweetheart in the hope of rekindling their brief relationship. By unfortunate coincidence, the detective also falls for her, and then it emerges there are even more men out there competing for her affections. Comedy from the Farrelly brothers, starring Cameron Diaz, Ben Stiller, Matt Dillon and Lee Evans.
Everyone's talking about: Stormy Daniels on SNL
Daniels issued President Trump a warning when she joined Alec Baldwin, Ben Stiller, Scarlett Johansson and more in a star-studded cold open for Saturday Night Live.
Source: Saturday Night Live/YouTube
Can't see the video? Click here.
Or flick over for…
Carnage (Sky One, 8.00pm) Andrew Flintoff, Lethal Bizzle and Vick Hope host a competition in which purpose-built, Mad Max-style vehicles go head to head in three arenas in the desert.
Nature Live (RTÉ One, 6.30pm) Footage of wildlife broadcast live from six nations. Derek Mooney hosts the Irish section, joining up with broadcasters in Spain, Norway, the Netherlands, Slovenia and Romania.
The Truth About HIV (RTÉ Two, 7.30pm) Chris van Tulleken reveals how the latest treatments mean that a diagnosis need not be a death sentence.
DailyEdge is on Instagram!