BATMAN WAS arrested on Saturday night by police in the US, who (honestly) said he wouldn't leave them alone.
Mark Wayne Williams, 33, was lifted by state troopers in Michigan because they say he refused to stop interfering after he showed up at the scene of a road accident wearing a Batman outfit.
"He wouldn't clear the scene, and we had a canine out there and he kept screwing up the scent," State Police Sgt. Jeff Gorno told the Petoskey News-Review. "He said he wanted to help us look for the driver."
"We didn't want the dog to track Batman instead of the accident scene, and he was getting in the way of officers who had a job to do," the sergeant said.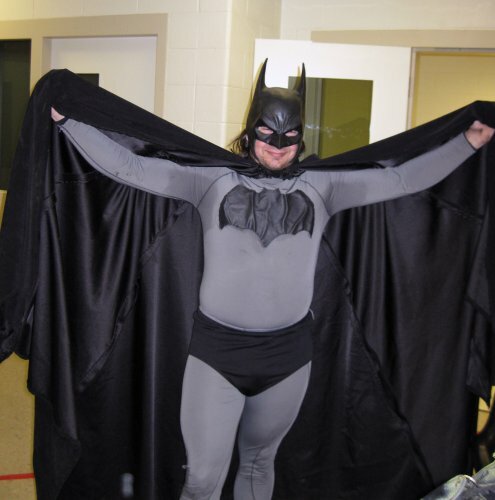 Holy sweatpatches, Batman! (AP Photo/Petoskey Department of Public Safety via Petoskey News-Review)
Williams wasn't carrying any dangerous weapons, but his costume and gear were confiscated, Gorno said. He was charged with resisting and obstructing police in an investigation, and he posted bond and was released from the county jail.
A call to a number listed as Williams' Petoskey home rang unanswered yesterday.
It's not Williams' first brush with the law as the caped crusader.
He was arrested last year after police received a report of a man dressed as Batman on the roof of a Petoskey business. When officers arrived, they found Williams, dressed as Batman and carrying a baton-type striking weapon, a can of chemical irritant spray and a pair of sand-filled gloves.
He pleaded guilty to one count of attempted resisting and obstructing a police officer and was sentenced to six months of probation during which he was forbidden to wear costumes, including his Batman get-up.
Williams said at the time that he never intended to harm anyone.