Welcome to Skin Deep with Louise McSharry, my opportunity to put years of obsessing over beauty products and techniques to good use. I won't tell you something is good if it's not. I won't recommend products I haven't actually tried. As the magical sitar in Moulin Rouge said, I only speak the truth.
My friend Emer is a woman with a real interest in cosmetics, but little interest in faff.
She likes to keep things simple, and is eternally on the hunt for single items of makeup which will be transformative. You know the kind of thing I mean, one super-glam lipstick which will elevate your face to such an extent that you'll need little else or a highlighter which makes your face glow so perfectly that people will ask you what you've been doing lately because you look so healthy.
She is particularly interested in eye products which will quickly and impressively give the impression of a chicness one can not attain, but is simply born with. She's not keen on eyeshadow and all the faff it entails, so when she glimpsed an eye gloss on someone's Instagram story recently, she felt this might be just the thing to cover her in glory at an upcoming black tie event.
Alas, it was not to be. It turned out to be, in her words, 'a swizz'. When Emer applied it, she felt she might as well be lashing on Vaseline, and thrown the extra twenty-five quid in the bin. The thing about eye gloss is that it's really only good for photographs. It doesn't last well, so always ends up looking grungy (fine, if you're into that) and often can result in makeup smeared across your face. Personally, I think it's criminal that makeup brands continue to sell it to us when really it's not compatible with real life.
Fortunately, there are some eye products which are quick and easy to use, and leave a high-end effect. Today, for Emer, and for you, I'm going to run through them.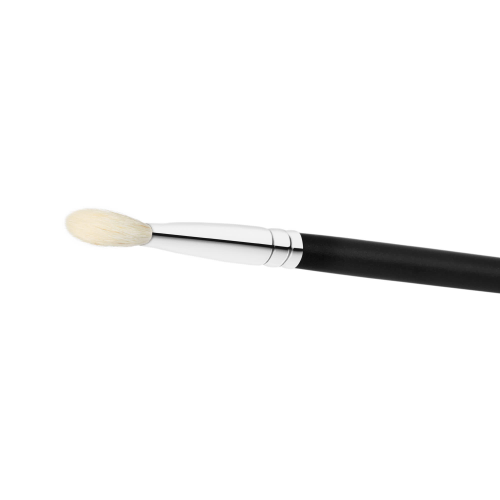 Personally, I love nothing more than to sit in front of a mirror with seventeen eyeshadows and twenty-five brushes and play with product on my eyes, but I understand that that's not for everyone.
For this reason, I highly recommend cream products for makeup wearers who want to get the job done quickly and in a sophisticated fashion. For this process, you really only need one or two products and one fluffy blending brush (my personal favourite is a MAC 217, but any fluffy brush will do). Once upon a time, cream products were tricky because they had a tendency to crease, but things have come a long way and high quality cream products now set quickly and don't budge. This is great, but it means that the secret to success with them is working fast. 
Whatever product you're using, lash it on quickly over the lid, and then immediately blend the edge with your clean blending brush. While powder products can travel a lot and become messy if you're not careful, the cream product will mostly stay where it is while the edges become buffed. This is what makes it perfect for people who struggle with powder eyeshadows. There is no fear of ending up with eyeshadow up to your hairline with a cream product (unless of course that's what you're going for).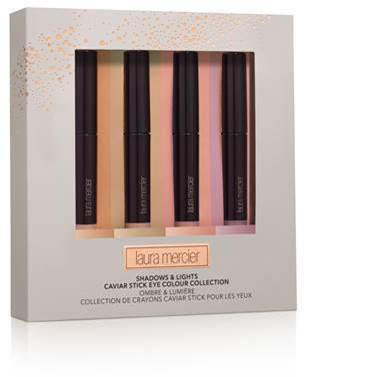 I'm a fan of one colour across the lid, so if you want to keep things really simple, just find a shade you love and stick to it. I think the key to making the one-colour look sophisticated is to bring some of the colour under your lashline.
This is particularly easy with my current favourites for this purpose, Laura Mercier Caviar Sticks. These are available in a special edition four-piece set this Christmas (€39), and I haven't stopped using them since I got them (they're what's on my eyes in the above photo, I swear that look took me two minutes).
Three of the shades are shimmery, one is matte, and they all work perfectly together in sophisticated, pinky-neutral harmony. I believe this set is perfect for women like Emer who just want to keep things simple, because there need be no confusion over colours or coordination. One shade across the eye will look fab, or you can use a lighter shade on the inner half of the eye and a slightly darker one on the outside for more depth. It won't budge, and you won't have to worry about it.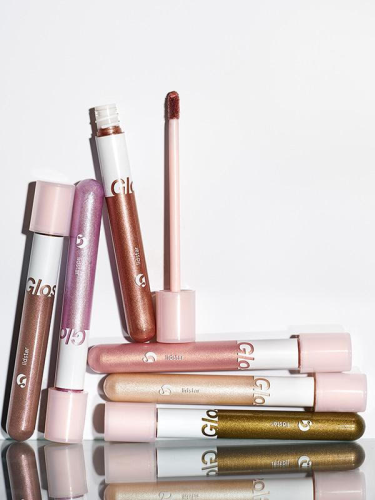 Another product which is quick and easy are Glossier's Lidstars, which are designed to be swept across the eye and slightly smudged with your fingers. They leave a wash of colour which isn't overly intense, but makes you look polished. Bourjois' Satin Edition and Metal Edition shadows do a similar job. I'm also a fan of Charlotte Tilbury's Colour Chameleon pencils which can be roughly scrawled across the lid and under the lower lashline, and as long as you blend them out straight away will look rock and roll and super cool.  
In summary, eye gloss is probably not going to work for you unless all you want is a whopper selfie for Insta. However, creamy eyeshadows in pots, tubes and pencil form, can help you get a sophisticated makeup look which lasts and is minimal faff. 
New Product
Glossier have reformulated Generation G, which is the closest thing the brand has to lipstick. I'm a huge fan of these guys, which are comfortable to wear but have a matte finish which essentially looks like a blotted lip. They are very chic and wearable, and the new packaging makes them feel a little more adult. I recommend.
Want to get a notification every week when Skin Deep is published? Of course you do! Just send us a WhatsApp saying 'Skin Deep' to 083 8120901, and add our number to your contacts as DailyEdge. (If you don't add us, we can't message you :( ) We'll never spam you or share your personal details with anyone, and you can unsubscribe at any time. 
DailyEdge is on Instagram!