EARLIER THIS WEEK, Bernie Sanders posted  a photo of himself watching the Republican National Convention and pissing around on his iPad.
Politicians — they're just like us!
Shortly afterwards, Irish Twitter user @PrayForPatrick shared this mocked-up photo purporting to show a framed photograph of the gorilla Harambe, who was shot and killed at the Cincinatti Zoo and Bonatical Gardens earlier this summer, on Sanders' bookshelf.
Now obviously anyone with a modicum of cop on would realise that it was a gag, but he tweet still soon ricocheted around the internet with the accounts @Dory, @CommonWhiteGirl and @chanelpuke ripping it off verbatim.
Meanwhile people soon started to *actually* believe that Bernie Sanders actually had a framed photo of Harambe in his living room.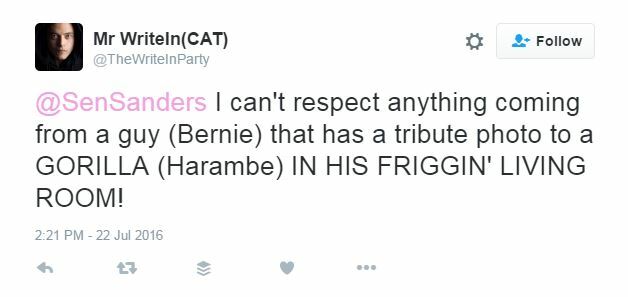 TheWriteInParty / Twitter TheWriteInParty / Twitter / Twitter
People even began to lament the fact that Bernie Sanders was no longer in the running to be President of the United States.
The whole thing got so out of control that Buzzfeed took it upon themselves to debunk it and declare it "photoshopped AF". 
Buzzfeed Buzzfeed
This isn't the first time one of @PrayForPatrick's has successfully tricked the internet. Last summer, he duped the British media into thinking the following Glastonbury infographic was authentic.
Of his latest con, he told DailyEdge.ie, "To be honest I can't believe people thought it was fake. I'm sure most politicians have a photo of a gorilla shot at a zoo amongst their private family pictures at this stage."
DailyEdge is on Snapchat! Tap the button below to add!