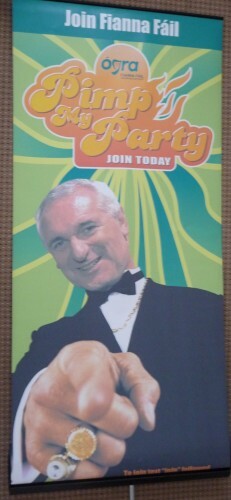 The Edition The Edition
To see a full-size image, click here.
THIS CELTIC TIGER-era, gangsta-themed Bertie Ahern poster was an actual, real campaign for Ógra Fianna Fáil.
It features Bertie Ahern wearing a gold chain and giant rings, and a copy of the Pimp My Ride logo.
And it could be yours. The poster is up for auction after being discovered by staff of The Edition, DIT's student newspaper, during a cleanup.
The paper's editor Al McConnell told DailyEdge.ie:
They were doing a clearout of the basement of Aungier St and some of this stuff emerged. You'd be surprised what you'd find in dusty cupboards.
The placard likely dates from 2006, when Ógra Fianna Fáil were running the Pimp My Party drive for membership. It also appeared on the front of their newsletter, reproduced here on Irish Election Literature, around that time.

Pimp Bertie is now being auctioned off to raise funds for The Edition, which runs on a "shoestring" budget. So how is the bidding going?
Says Al: "We've had one for Charlie Bird's autobiography and one Irish punt. That's the level."
h/t Reddit