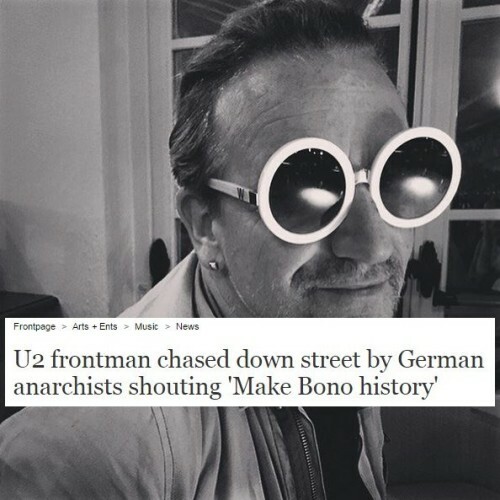 THIS MORNING, U2 are dominating the headlines following the announcement that they will play four dates in Dublin's 3Arena this November.
With that in mind, we thought we'd look back on some of our favourite Bono-related headlines.
1. "Make Bono history"
Independent Independent
2. This startling revelation…
Haaretz Haaretz
And the inevitable rollback…

Haaretz Haaretz
3. Bono is so powerful that he can just decide who is and isn't Irish

The Guardian The Guardian
4. Thanks a lot, Bono.

Taki Mag Taki Mag
5. No comment.

Telegraph Telegraph
6. Bono learning the alphabet there.
CNS CNS
7.  ¯\_(ツ)_/¯

Irish Independent Irish Independent
8. #shade

Page Six Page Six
9. People really don't like getting free stuff off Bono

NME NME
10. *rolls eyes*
Telegraph Telegraph
Also: "insufferable jumped-up Jesus"
11. "Don't go to bed, Bill! Stay up a bit longer!"

Irish Independent Irish Independent
12. And finally…
*drops mic*