THERE IS NO escape from Christmas songs. In the supermarket, in the post office, in the pub: they are everywhere.
Here at DailyEdge.ie, we have painstakingly ranked all* the key Christmas songs, and placed them in order from worst to greatest.
This ranking is final and definitive.
*By 'all', we mean 'some of the main ones'.
16. Newsong – The Christmas Shoes
NewSongVEVO
Travesty? Abomination? Vomit-inducing gorefest of gratuitous sentimentality? It's hard to decide on a description. This song takes genuine, good emotions and crushes them in its cloying fist until the juices run clear and free.
(Can't see the video? Click here.)
15. Status Quo – It's Christmas Time
UMTVMUSICDISCOVERY
THE SCENE: Status Quo's studio, 2008
Rocker 1: Should we do a Christmas song? What's Christmassy that we can put in it?
Rocker 2: Ungggh… uhhhh… roasting chestnuts… nnnngggh… wine…. uhhhh… Christmas time?
Rocker 1: Got that on tape Rick. Nice work. See you next year.
(Can't see the video? Click here.)
14. Madonna – Santa Baby
scrubinc
Anyone who can hear the phrase "Hurry down my chimney tonight" without shuddering needs to take a long hard look at themselves.
(This is only exceeded in awfulness by the Michael Bublé version, in which he refers to "Santa buddy" throughout, giving the whole song the feel of an obnoxious stockbroker trying to be a taxi driver's best friend at 2am.)
(Can't see the video? Click here.)
13. Cliff Richard – Mistletoe and Wine
TheChristmaSongs
Dull dull dull. Also contains the most bizarre pronunciation of "Christ-ee-an" in recorded history.
Oh, and the video opens with Cliff looming at the window of a house peering in at a sleeping child. She is now spending years in therapy after her parents refused to believe what she saw at the window one terrible Christmas.
(Can't see the video? Click here.)
12. Baby It's Cold Outside
Margriet Askew
Yes, this is a nice tune. But let's take a proper look at what's happening here.
A man brings a girl back to his place, insists that there are no taxis to take her home, and pleads with her not to "hold out" on him. Meanwhile, she asks suspiciously "What's in this drink?"
Is this really the Christmas message we want to be promoting/belting out while on the batter? Is it?
(Can't see the video? Click here.)
11. Paul McCartney – Wonderful Christmas Time
videosanta69
From the dark, dark decade after Paul McCartney left the Beatles and before he figured out how to be cool again. The kind of song your mam and/or dad probably have a dance to after one too many sherries.
Although that said, the 'waow waow' synth noises are a bit fun. Fair play Paul.
(Can't see the video? Click here.)
10. Band Aid
PhoneixRising100
On the one hand, it's genetically impossible for any group of functioning humans not to pump their fists and roar "TONIGHT THANK GOD IT'S THEM… INSTEAD OF YEEEEEUUWW" along with Bono when this comes on at a party.
On the other, its declarations about an entire continent – significant parts of which are covered in lush, watery jungle – that "nothing ever grows" and "no rain or rivers flow" are a bit of a worrying slip-up from a gang trying to save the world.
Also, there might be snow in Africa this Christmas time.
(Can't see the video? Click here.)
9. Bing Crosby and David Bowie – Little Drummer Boy
GPITRAL0
One of the greatest Christmas videos of all time, as David Bowie pretends to mistake Bing Crosby for a butler and hilarity ensues. They then awkwardly avoid each others' eyes for the duration of the song.
(Can't see the video? Click here.)
8. Slade – Merry Christmas Everybody
abcdefdjykj
On the all-important Christmas Song 2am Yellability Index, Slade are absolutely off the charts. Hell, Noddy Holder basically invented the whole tradition of yelling Christmas songs by bellowing "IT'S CHRISTMAAASSSSS" unexpectedly in the middle of this number.
However, if you're feeling any less than utterly festive, this song is likely to induce a murderous rage. As such it would be irresponsible for us to place it any higher.
(Can't see the video? Click here.)
7. Jonah Lewie – Stop The Cavalry
Roscoz
Sleigh bells and a jolly trumpet melody combined with a poignant message of peace? Check. Yearning references to being at home for Christmas? Check. When it comes to giving you that happy-sad feeling that every great Christmas song should induce, Jonah Lewie is a Jedi master. A classic.
(Can't see the video? Click here.)
6. Chris Rea – Driving Home For Christmas
Edgegbr
Fundamentally an extremely boring song, but rescued by its uncanny accuracy in describing the feeling of driving home for Christmas.
Right down to the moment when you look at the driver beside you and feel a strange sense of kinship, rather than the usual urge to mercilessly run them off the road.
(Can't see the video? Click here.)
5. Wham! – Last Christmas
John Mc Grath
Basically the greatest Christmas holiday you've never had. With added heartbreak. Close to perfect, and we're not just talking about George Michael's magnificent hair in the video.
(Can't see the video? Click here.)
4. Wizzard – I Wish It Could Be Christmas Every Day
emimusic
Perhaps the closest humanity has got to expressing pure joy in musical form. Obviously the idea is ludicrous, but if you've got as far as singing Wizzard you're almost certainly too gee-eyed on festive sentiment to care. Happy Christmas!
(Can't see the video? Click here.)
3. East 17 – Stay Another Day
brianina82
Even if the world burns and people forget the Boyband Wars of the early 1990s (an unthinkable prospect), East 17′s legacy will live on through this strangely touching exercise in begging someone who's obviously gone off you not to leave.
The musical equivalent of eating too many chocolates: oversweet, very much in the Christmas spirit, and may leave you with a nasty case of yearning, yearning heartburn.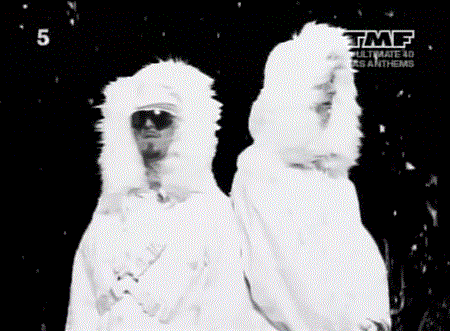 (Can't see the video? Click here.)
2. Mariah Carey – All I Want For Christmas Is You
Gabz50
Mariah Carey's major contribution to world culture. If you can sing along to this song without your heart swelling with the thought of someone special in your past, present or future… well… you're an emotionless automaton with a heart of clanking steel, and should be excluded from Christmas altogether.
Enjoy Robot Christmas, you oil-sucking machine you.
(Can't see the video? Click here.)
1. The Pogues and Kirsty MacColl – Fairytale Of New York
skateboardingmad
No contest for number one. It's sad, it's clever, it's fond of rude words, and it only tells you its feelings when it's drunk: essentially, Fairytale Of New York IS Ireland. 
Have a great Christmas, everyone.
(Can't see the video? Click here.)