EVERY WEEKDAY MORNING, DailyEdge.ie rounds up the best of the day's celebrity dirt from the top to the very bottom
Shawn Mendes is in a bit of trouble with the country of Brazil. 
The Canadian singer, whose father is Portuguese, released In My Blood as the team's official anthem for the World Cup.
FPFutebolOficial / YouTube
Some Brazil/Shawn Mendes fans are VERY conflicted about the whole thing, and reckon he's after picking the wrong side to root for.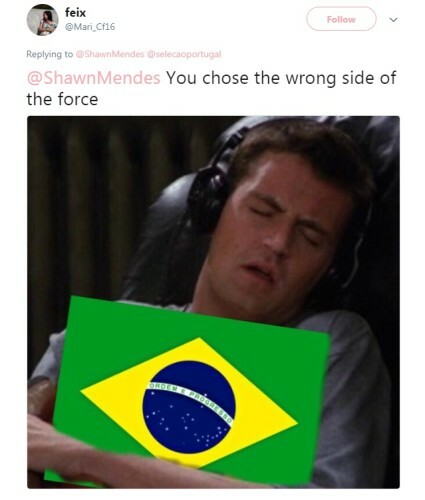 © Twitter © Twitter
Can't well just agree that this is a bilingual #banger? (Twitter)
Eh, Stefano Gabbana called Selena Gomez ugly on Instagram. Harsh.
The Catwalk Italia Instagram account shared a side-by-side of some of Selena's best looks from recent years, with Gabbana commenting underneath, saying: "è proprio brutta," which translates as "she's really ugly".
Awks.
Selena's fans are currently going in on him in the comment section, if you fancy a lol. (Instagram)
Members of Beyoncé Beyhive reckon the singer is pregnant with her fourth child with Jay Z, after sporting a 'baby bump' on tour.
Fans took to social media in speculation that their Queen Bey is pregnant, with various photos and videos to back up their claims, while sources at Star magazine revealed the Crazy In Love songstress is 'over the moon' with her pregnancy news.
Beyonce looks pregnant again. Ya'll know they love 4′s and she has all those coats for the tour," one fan wrote on Twitter.
Another fan was more than impressed with Beyonce's drive to perform for her fans even with pregnancy rumors swirling.
© Twitter © Twitter
Yeah, you'd think that, but I'm going to stay on the couch, thanks.
A source at Star magazine revealed that while the news is a bit of a surprise for the couple, they're happy to welcome a new member into the family. Any chance of adopting me though, no? (Daily Mail)
And all of your other celebrity dirt…
Millie Bobby Brown deleted her Twitter after being made into a homophobic meme. (DailyEdge)
Antony Costa from Blue has lost a load of weight. Fair play to him! (The Irish Sun)
Farrah Abrahams just got out of jail after allegedly assaulting a hotel worker. (People)
DailyEdge is on Instagram!