IN THE EVENT you've been living under a rock the past week or so, Beyoncé and Jay-Z released a joint album called 'Everything Is Love'.
You might also have missed Nas dropping a new album 'Nasir', executive produced by Jay-Z's public frenemy no.1 Kanye West.
Music industry folk reckon it was a deliberate move on the Carters' part, in order to take attention away from Nas' much-hyped comeback.
That said, nobody could necessarily prove that that was the case. Maybe it was just all an unfortunate coincidence, right? Right?!
Maybe not, depending on how you interpret Beyoncé's most recent activity on social media.
"What social media activity?" I hear you ask. "She's never poxy on social media."
You're dead right – our Bey is mega private now and rarely uploads or does anything. However, members of the Beyhive reckon she has a secret 'stan' account to keep track of them all online, which is how she got caught being a shady queen.
Previously, Beyoncé had never "liked" any tweets on Twitter before. Then, a mega fan caught the star's profile favouriting a meme about how herself and her husband trumped Nas. Take a look below: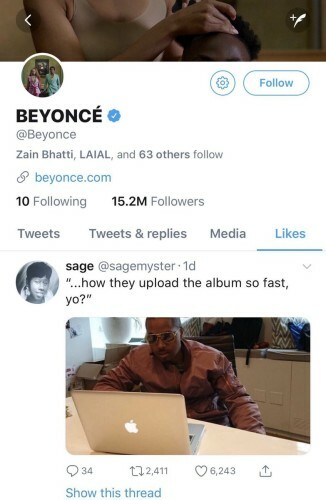 https: / /twitter.com/RESPECTMYCHECK https: / /twitter.com/RESPECTMYCHECK / /twitter.com/RESPECTMYCHECK
(If you don't get the meme, that's Nas sitting at the laptop. The caption relates to how quickly 'Everything Is Love' went up on Tidal following the release of his album 'Nasir'.)
Now, the 'APESHIT' singer quickly copped her mistake, and promptly unliked it. But, not before super fan @RespectMyCheck took screenshots.
Hmmm.
Fans reckon Jay-Z himself addressed his and Kanye's ongoing beef on the record, which started as a result of him not showing up to Kanye's wedding to Kim Kardashian.
On the track 'FRIENDS', Jay-Z raps:
I ain't going to nobody for nothing when me and my wife beefing / I don't care if the house on fire, I'm dying, n*gga, I ain't leaving Ty Ty take care of my kids, after he done grieving / If ya'll don't understand that, we ain't meant to be friends."
DailyEdge is on Instagram!