THE LIGHTHOUSE CINEMA is to show the classic Labyrinth this weekend as a tribute to the late David Bowie. To sweeten the deal, all proceeds will go to the Irish Cancer Society.
The classic 1986 movie was Bowie's most iconic role, as the Goblin King who is accidentally summoned by a teenager who steals her baby brother and take him to his castle within a labyrinth.
Sure, he scared the shite out of you as a kid, but now you can go enjoy it in all its glory.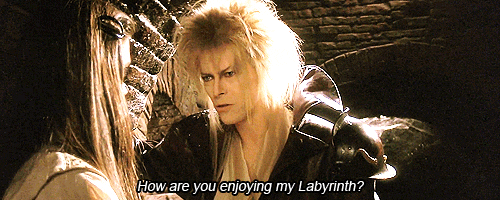 Tumblr Tumblr
It will be shown in the Lighthouse on Friday at 11.30pm, and Sunday at 12.30pm, with tickets from €7.50. Be quick though, tickets are selling like hotcakes.
Across town, the Sugar Club are holding a special tribute night to Bowie, will profits also going to the Irish Cancer Society.
They'll be screening the live documentary concert, Ziggy Stardust and the Spiders from Mars, recorded at the Hammersmith in 1973. DJs will also be spinning the best Bowie tunes as well as those influenced by Bowie.
It's all happening on Saturday and you can get tickets here.