Updated 12.50pm
HE'S THE CAGE-fighting River Boy with the Irish tattoo and the bad boy looks, and now he's coming to Ireland.
Steve Peacocke, who plays Brax in Home and Away will be partying it up in nightclubs around the country in December and January.
He'll be in the Palace Bar in Athlone on 29 December, but only until 11pm, when he'll be whisked to Maynooth to party on down in Mantra Nightclub.
Then on 30 December he's in the Hush nightclub at the Red Cow Hotel in Dublin.
Wilton Shopping Centre in Cork is the place to be on 31 December, and then some lucky divils will get to ring in the new year with Brax at a Cork venue that's yet to be decided. Tease.
New Year's Day will see Brax in Cavan to attend the Teenage First event at Diesel nightclub.
Our favourite detail from the Brax in Ireland webpage is this:
Minimum two people per photo.
Is that you and Brax? Or a threesome? Only time will tell.
Better tip on down to Yabbie Creek and get a new frock for the occasion.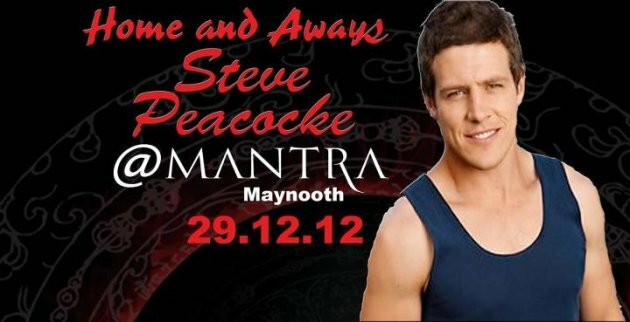 Brax will be flexing his muscles in Mantra Nightclub in Maynooth on Saturday 29 December (Via Facebook)
Brax's Irish connection isn't limited to Kildare nightclubs. He has a tattoo on his hand which reads 'Cara de mo Chroí', which, according to the Home and Away Ireland blog (with its excellent Morag-related masthead), he got to remind him of his lady love Charlie.
Spit on us Brax.
(H/T to Simon Murdoch for details of the nationwide tour)