A FEW DAYS ago, Justin Bieber announced that he was canceling the remaining 14 dates of his Purpose world tour.
The 23-year-old had performed 150 concerts over the past 16 months, but pulled the remaining dates with his manager Scooter Braun saying the cancellations were for the good of Bieber's "soul and wellbeing".
Initially, Bieber explained to TMZ that he was simply looking for some downtime after being on the road for sixteen months.
Just resting, getting some relaxation — we're gonna ride some bikes.
The website later reported that he was rededicating himself to his Christian faith, having recently gotten involved with Hillsong Church. (The singer accidentally hit a man with his car while leaving the church last night.)
While fans may have been left disappointed, many ultimately respected Bieber's decision. John Mayer was among the high-profile figures to give Bieber kudos for "realising it was time to call it".
This afternoon, Niall Breslin took to Twitter to criticise Bieber and his treatment of the crew working on his tour. (Bieber was asked what he thought about leaving crew members out of work for the final 14 dates of the tour to which Bieber responded, "They're not my staff.")
"So #Bieber cancelling tour left countless of his crew without job #bieber suggests not his problem," Bressie wrote. "This @henryrollins quotes comes to mind."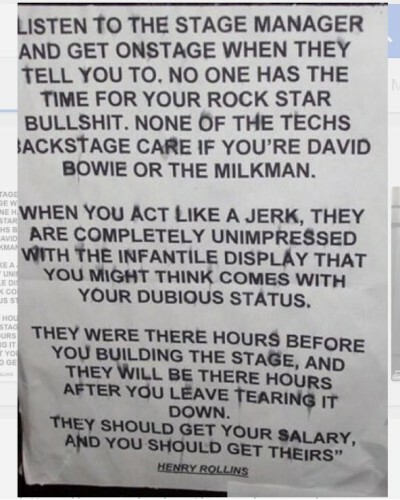 Niall Breslin / Twitter Niall Breslin / Twitter / Twitter
Many were quick to point out to Bressie, a well known mental health advocate, that Bieber had cited exhaustion as a reason for withdrawing from his tour and asked if a young man should be expected to sacrifice his wellbeing for the sake of people making money.
(This Billboard article highlights just how packed Bieber's itinerary has been over the past 16 months.)
In a 2016 interview with GQ, Justin Bieber outlined how he was weaning himself off Adderall, a drug used to treat ADHD, and suffering from anxiety.
Adderall is a stimulant commonly prescribed to treat ADHD. Bieber, who is 21, says he's been on it for "about a year now, but I think I'm about to get off of it because I feel like it's giving me anxiety."
"I'm not getting restful sleep, so during the day I need [Adderall] to concentrate because I'm not getting the proper—you know, when you sleep, your body creates endorphins, creates these things, and when you're not getting that sleep…"
Justin Bieber tells me a lack of sleep is compromising his entire immune system. He says he hopes to cut out the Adderall gradually and replace it with "something really natural, like a natural sleep aid."
In other words: Justin Bieber is a normal 23-year-old man who suffers from tiredness and anxiety from time to time. Unlike most normal people, however, he is subject to intense scrutiny and accused of letting fans and colleagues down should he take time out to look after himself.
Which is quite burdensome, we're sure you'll agree.
Bressie subsequently deleted his original tweet and explained that he hadn't been aware of the circumstances of the tour cancellation.
"I'll always admit when I'm wrong," he wrote to one Twitter user. "Should've read more into it."
Niall Breslin / Twitter Niall Breslin / Twitter / Twitter
DailyEdge is on Snapchat! Tap the button below to add!