EARLIER TODAY, BRIAN McFadden sent a tweet in which he appeared to suggest that we should take on ISIS in hand-to-hand combat.
A bold suggestion, no doubt, and one that came in for a bit of criticism.
If you follow Brian McFadden on Twitter, you'll know that he truly doesn't give two shites and just sticks whatever up there.
1. Like the time he excitedly informed the world he was going to a VMA part with Usher and prayed that Justin Bieber would show up.
2. And subsequently ragged on the party.
3. Before leaving altogether.
4. He's not afraid of wreck-the-heads.
5. In fact, he practically endorsed one during the last election
6. And urged people to "have a little hope" once he was elected.
7. He's urged Kim Kardashian, Kanye West and Taylor Swift to "grow up" and use their collective influence to… broker world peace… or something?
Alright, Brian.
8. While using his own influence to get Andy Roddick to follow him.
9. He has *no* time for the grammar police.
10. Or for Republic of Telly, for that matter.
"Karma"
Brian McFadden Brian McFadden
11.  ¯\_(ツ)_/¯
12. He's happy to boast about his salary and tell people to "suck it"
13. Haw, haw, haw.
14. He likes to mingle with his celebrity pals…
Like the time he asked Ricky Gervais if he ever said "Oh God" during sex.  (He didn't get a response.)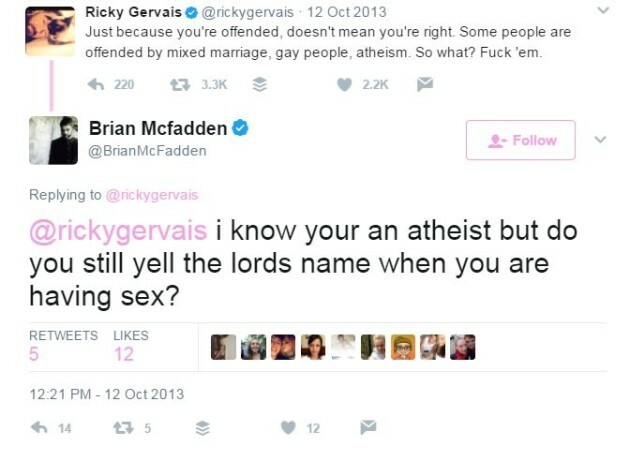 Brian McFadden / Twitter Brian McFadden / Twitter / Twitter
15. And gets all his medical advice from Uber Facts.
16. He's a big fan of the Twitter followers vs. penis size analogy.
17. Like, a big fan.
18. A really big fan.
19. Sneaky liars, beware
20. Remember when he released Just The Way You Are (Drunk At The Bar)?
21. That didn't backfire at all.
22. *strokes chin*
23. He can get profound, too.
24. He's practically a philosopher.
25. Finally, I can't even begin to decipher this one.
Never change, Brian.
DailyEdge is on Snapchat! Tap the button below to add!